We've compiled some helpful pro tips to assist in making the pivot to a virtual environment, while also providing sponsors significant opportunities to leave an enjoyable impression on each event participant.
Virtual Event Boxes
Consider Virtual Event Boxes to keep the energy, connection, and sponsorship impact intact with an experience your participants can touch and feel. Your thoughtfulness will add the excitement of a sensory experience to your virtual event.
Attendee Collection
Whether you send to just a lucky few "early registrants" or to your entire registration list, an attendee box is a fantastic opportunity to re-invent the event experience.
Consider traditional credentials like a lanyard and ID tag. Combine fun with functional and address the new virtual venue with blue light glasses (attendees are about to get a lot of screen time) and branded socks (shoes will be optional at this year's conference). Maybe send some inexpensive but high impact decals to all RSVPs, reserving the fully designed boxes as a post-event mailer for those who truly attend.
Whichever option you explore, we have an abundance of effective ideas to help you execute it.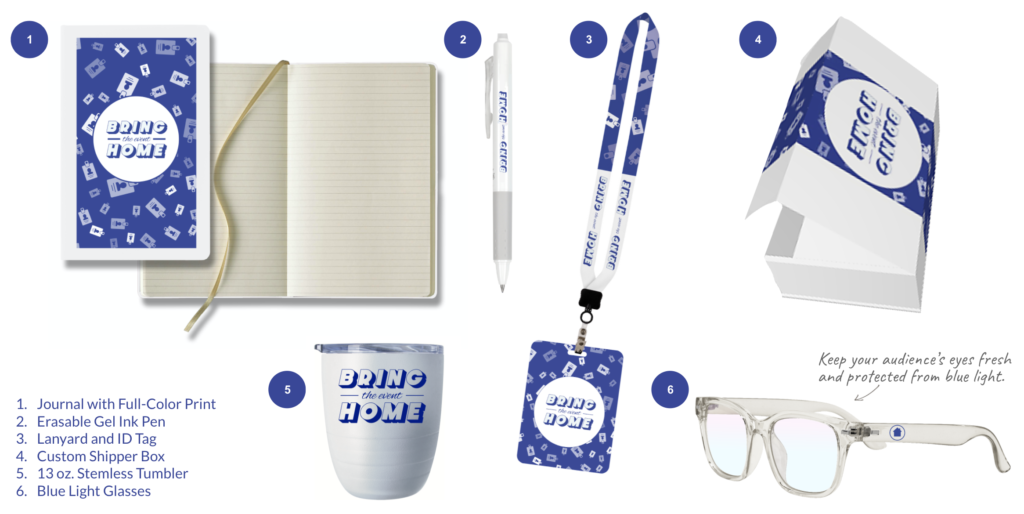 Presenter Collection
Event boxes aren't just about the attendees; they're also about the presenters!
Ensure that your event presenters maintain a consistent and professional appearance with branded backdrops and a little lighting assistance. Showcase your event or sponsor logos on easy-to-assemble 5' x 6' backdrops, a perfect size for video conference calls. Add a green screen to the reverse side of the slipcover for virtual background fun and sponsorship highlights throughout the event.
Add in some branded apparel and a trusted piece of drinkware! Everyone will look sharp, feel appreciated, and be prepared to present with confidence.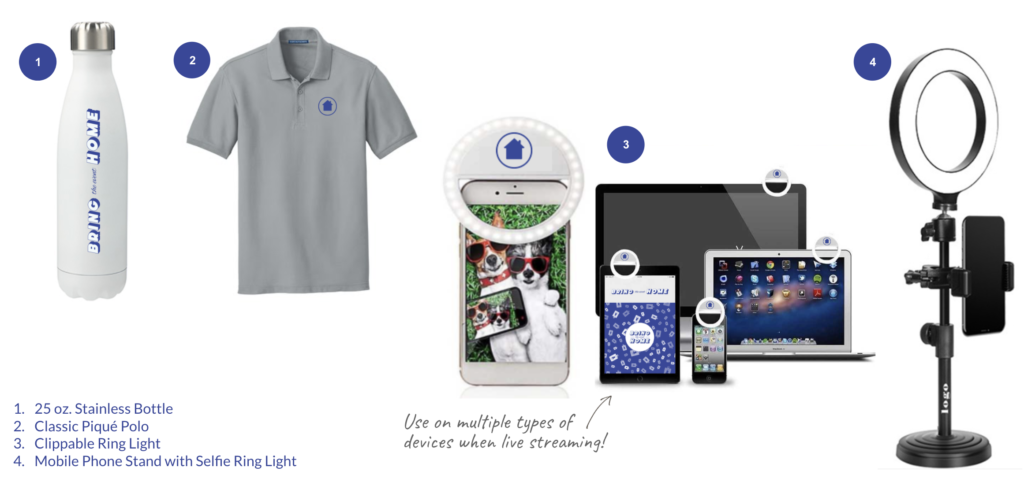 Sponsorship Opportunities
Just because your event has gone virtual doesn't mean that traditional sponsorship is no longer an option. The networking opportunities that meals, chats over coffee, and snack breaks provide at a physical event can be replicated in the virtual event world through the use of breakout rooms in Zoom and other similar platforms.
Make an impact with these trending sponsorship opportunities:
Coffee Break Sponsor
Whether you opt for a sleek double-walled tumbler, a Starbucks gift card, or a k-cup, there is plenty of potential to create valuable brand impressions for a sponsorship at multiple price points.
Lunch Sponsor
Send meals directly to participants' homes through partnerships with Postmates, Uber Eats, DoorDash and others, or send participants a branded lunchtime accessory that they can use on their own.
Snack Break Sponsor
Encourage folks to stand up, stretch, and grab a sponsor-provided snack. Provide something sweet and something savory to satisfy every snacking palette.
Happy Hour Sponsor
Provide a virtual happy hour with Zoom social networking and cocktail kits! From signature cocktail/mocktail recipes printed on napkins to a full bartender's tool set, there is a lot you can do to keep this sponsorship alive at your next virtual event.
Dessert Sponsor
Brownies. Ice cream. Cake pops. Enough said. Let these goodies speak for themselves!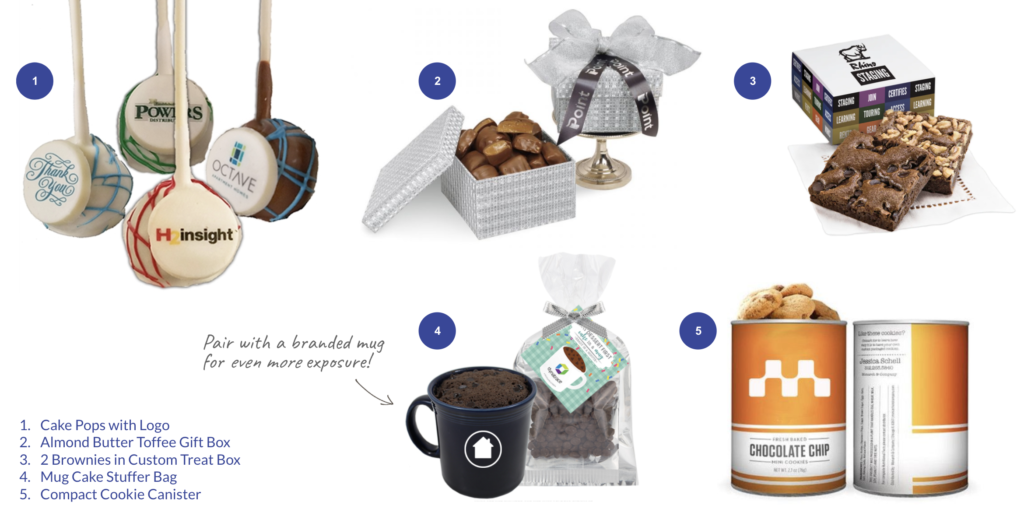 Check out our Virtual Event Merchandising presentation for all of our pro tips!