'Lo and behold, consider the following scenario:
While sourcing last minute gift ideas for your brand admirers, employees, and business advocates, you simply cannot choose between the bamboo bento box, the tricked-out hammock, and the waterproof speaker.
Well, why pick? Create a camping-themed Branded Box complete with all three items – one for munching, one for relaxing, and one for rockin' beside the campfire.
Think inside the box. It's that simple.
Branded Boxes
Branded Boxes are virtually limitless in theme and design, and are easily customizable to fit any need and any budget. Delivering a tangible collection of products is an engaging and elevated way of gifting while simultaneously showcasing the creativity of your brand.
Crissy Manwaring, Business Development Manager at Boundless, wanted to share a few turnkey Branded Box examples that are as exciting as they are relevant.
Boxes for the Holidays
The holidays are right around the corner, and nothing says holiday like spending time with family or curling up with a cup o' nog and bingeing your holiday favorites (Christmas Vacation, anyone?).
As the pace of life has slowed this year and we're all feeling a little cooped up, a Gather 'Round Box is perfect for game nights at home with your favorite people. Consider board games, sweet and salty munchies for the whole group, and branded coasters for a fun night in.
Much needed holiday me-time is also an option with the Cuddle Up Box. Binge your favorite holiday flicks wrapped in a double-sided flannel and Sherpa afghan, sip some Christmas tea from a self-heating mug, and enjoy a new pair of cozy branded socks.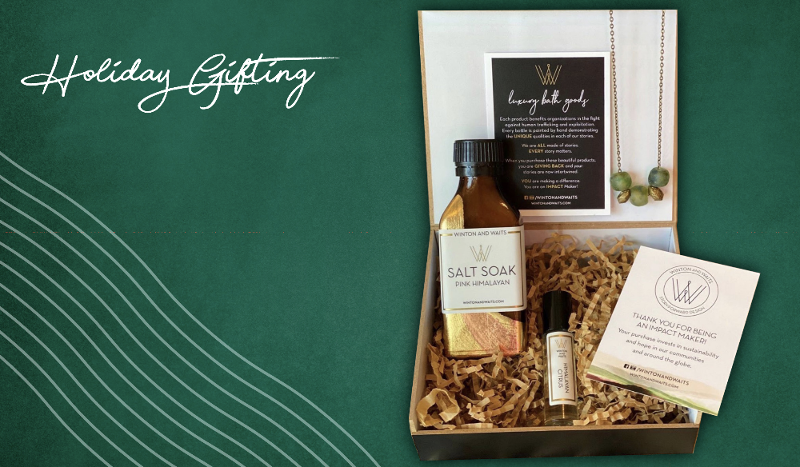 Event Gifting
2020 put a damper on in-person events like tradeshows and sales meetings, but we've all done so well in adapting to the current climate that in-person events are slowly beginning to trickle back.
For in-person events, we encourage you to continue leading with PPE to make sure attendees feel comfortable and safe. Demonstrate that you care first and foremost about their well-being with PPE items like branded masks, gloves, and hand sanitizers.
For virtual events, consider an experiential mailer. Speakeasy Boxes replicate the magic of a sponsored cocktail hour, complete with stunning packaging mimicking a mixologist's paradise, loaded with beverage mixers, infused ice cubes, multi-tool coasters, and a stylishly slate hip flask inlaid with your brand. Consider a handwritten note to give it an even more personal touch.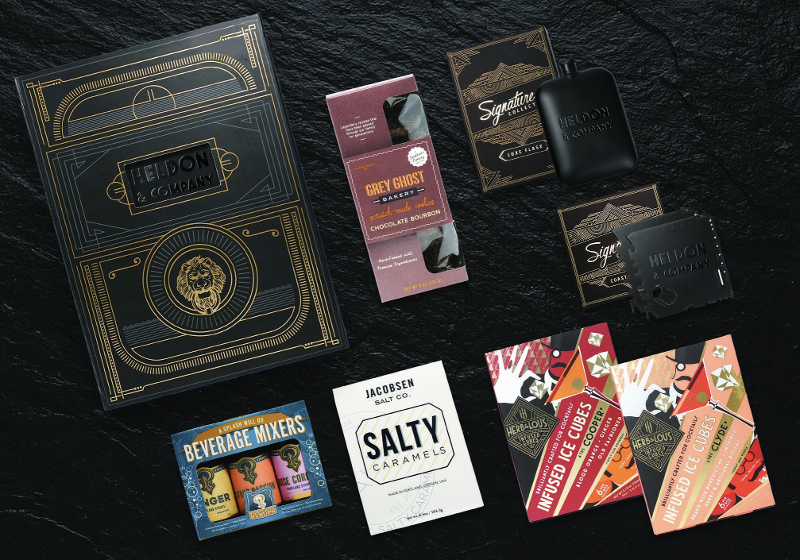 The Gift of Gratitude
Take a moment to express gratitude for those in your life, whether it's your work colleagues, employees, clients, or even your neighbors.
Gratitude Boxes are as versatile as they are encouraging. Consider a stationery set with thank you cards and a roll of stamps so your recipient can extend their own expressions of gratitude to those in their life. Include a gratitude journal to encourage your recipient to keep up the habit of recognizing and expressing gratitude through 2021 and beyond.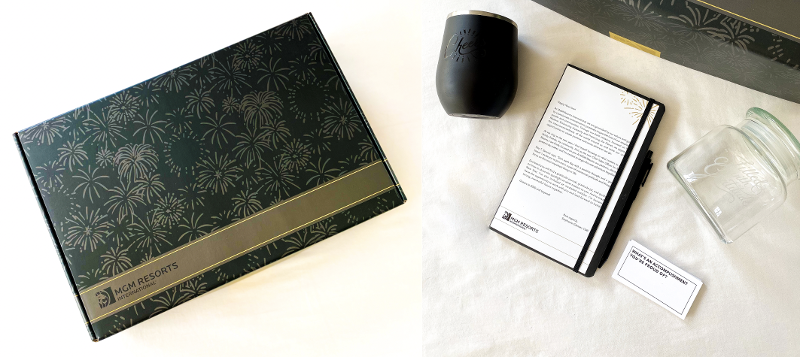 In Short…
Branded Boxes are all about maintaining that human-to-human element that has been less prevalent in 2020. This personal element is so important in giving back to your brand advocates with thanks and recognition by gifting products that are kept, used, and appreciated.