We had the pleasure of chatting with Erin Moss, one of Boundless' awesome Brand Consultants who has been with Boundless for almost 9 years! Erin speaks on her secret to building relationships with clients, and why Boundless was the right place to grow her business.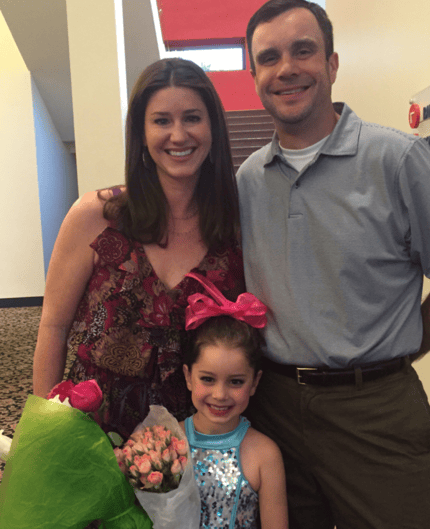 Tell us a little bit about yourself.
I live in Houston less than a mile from my childhood home (where my parents still live). My husband and I met at Texas A&M and we love the Aggies! We still stay in touch with our college friends by going to Golf Shores, Alabama, and this year will be our 4th year keeping up the tradition with 7 families from A&M. As far as family, we have one daughter who is in second grade. I coach her basketball team and my husband coaches her softball team, so as a family we stay very busy with her sports and extracurricular activities. Along with coaching, I just started playing tennis 2 years ago and I am obsessed!
How did you get into the promotional products business? What do you like about it?
When my husband and I decided to start a family, I knew I did not want to stay at a Corporate 8 – 5 job. I talked to a friend of mine who was working from home and selling promotional items. When she explained to me that she was able to put in a load of laundry while selling 200 hats and making money at the same time, I realized that this was the career for me! I am a major multi-tasker and can often be found folding clothes while on my headset phone with a supplier learning about new products in the industry. I have been in the industry for 12 years and I absolutely love the flexibility and that I can make my own schedule. I also love to come up with creative ideas for a specific theme or event for my customers.
What is your secret to building relationships with your clients?
When I go in and meet with a customer, I try and let them do most of the talking. I also avoid shoving products in their face and instead challenge them to think strategically about why they are purchasing an item or piece of apparel. I love being the go-to person to come up with a solution for a client.
What has been the biggest game changer in the promotional products industry in your time as a sales partner?
When I first started, everything was a one or two color imprint – now, so many items will take a full-color imprint and the packaging is a major game changer!
When did you start working with Boundless? What drew you to the company?
I began with Boundless in September of 2008, the day that Hurricane Ike hit Houston and we lost power for 2 weeks! I can remember meeting with Jason Black, the CEO at the time, at a Starbucks several months before, and he had a spiral bound PowerPoint presentation about this new company called "Boundless Network". His excitement and passion for the industry and this new company was very inspiring! Then, I met the people and I was hooked!
How do you see Boundless shaking up the industry?
There is no one else out there like Boundless! If you have ever been to the annual Founders' meeting you will discover the uniqueness of Boundless immediately! I can't wait to see what else is to come in the future!
Interested in learning more about what it takes to #BeBoundless? Read up on us here!