On June 3, 2020, we hosted our first ever, entirely virtual Awards Ceremony at Boundless. It was a festive night, full of fun, positive energy, and appreciation. We kicked off our evening with a cocktail hour, transitioned into our awards ceremony with a little song and dance, and recognized 30+ individuals for their sales achievements and for exhibiting our Core Values. We even topped off the evening in true Boundless fashion, with an after-party.
The evening allowed for cross-functional collaboration, lots of laughs, and a few (Zoom) lessons learned. We wanted to share our experience with you to help inspire your next virtual event!

Why we chose to do it:
Our annual sales conference, Founders' Circle, takes place each spring. It's such a great opportunity for our suppliers to get facetime with our 120+ sales team members that live all over the U.S., and to reinvigorate the sales spirit through sharing best sales practices and team building. It is a three-day event that includes our year-in-review and a road map for the year ahead, for everything from technology to product trends. However, our favorite part of Founders' has always been our second evening, when we traditionally host a full sit-down banquet and spend a few hours recognizing the prior year's achievements of both sales and corporate team members.

Like so many other events throughout the world, Founders' was impacted by COVID-19 and the necessary restrictions that came along with it. We were left asking ourselves whether to postpone or cancel the event altogether, and just like many other organizations that have had to adapt to their newfound circumstances, we chose to pivot. We would not let a whole year go by before recognizing the people that make Boundless great.
How we made it happen:
It truly takes a village, y'all. Founders' takes several months of planning and dedication from our Marketing and Operations Teams. To create an event from scratch, we would need input from leadership, key stakeholders, and parties responsible for everything from the cocktail hour to tech support. And so we reached out to every single team within Boundless and voila! Our 2019 Awards Ceremony Party Planning Committee was born.
Preparing for a memorable evening:
We decided this was not going to be just another Zoom meeting. This was destined to be an evening of relaxation, fun, and a little bit of glamour. To show our intent to host a lovely night-in, we sent swanky digital invitations using Paperless Post with the Zoom link included. We encouraged our guests to dress up for a red carpet-themed event, complete with recommended Oscar backdrops – and dress up they did!
Even our evening's emcees had unique backdrops that created the feeling of a new, fresh virtual space for us to enjoy.
We curated three cocktails for the event, complete with a family-friendly mocktail. We made sure our guests had a heads-up on necessary ingredients so they could follow along and make their own drinks throughout the cocktail hour. This gave all our attendees a chance to trickle in to the call.
The evening would have fallen short without a full sit-down dinner. In lieu of drop shipping dinner to 150+ guests in 35+ states, we partnered with Postmates to provide a promo code that allowed everyone to order a meal of their choice (on us!) for the evening.
It was all worth it!
We received a lot of positive feedback after the event! We are collectively experiencing a lot of uncertainty in our lives, and this evening was a brief but lovely escape from our current routines. I'd like to specifically thank our Party Planning Committee members who organized everything, from creating "seating tables" (aka pre-assigned Zoom Breakout Rooms) and pre-recorded song and dance to coming up with icebreakers and making sure to spotlight our winners throughout the evening.

---
2020 AWARD WINNERS
AWARDS – CORE VALUES
Find a Better Way
Sales – Melissa Rusk, Texas
Corporate – Nancy Grimes, IT/DevOps
Do the Right Thing
Sales – Stephanie Childs, California & Michelle Veintemillas, Texas
Corporate – Dani Garcia, Sales Support
Go Above & Beyond
Sales – Clark Hale, Kentucky
Corporate – Jordan Olivarez, Sales Support
Contribucate
Sales – Amber George, Texas
Corporate – Michelle Rehak, Sales Support
Embrace the Fun
Sales – Graham Robbins, Texas
Corporate – Jonathan Bradford, Sales Support
AWARDS – PERSONA
The Techie – Kevin Quinn, Missouri
The Creatives – Sue & Tom Sweet, Georgia
The Socialite – Andrea Pereira, California
The Helping Hand – Scott Heavin, Indiana
The Brave – Michelle La Greca, California
The Shooting Star – Lanae Wallace, Minnesota
AWARDS – SALES ACHIEVEMENT
Highest Sales Overall – Theresa Roberts, Arizona
Highest Sales Month – Theresa Roberts, Arizona
Highest Team Account Sales – Rita Hazen, Kim Esson, Carrie Nolen, Meggan Walker (AHA Team)
Outstanding Performance – Brian Furey, Arizona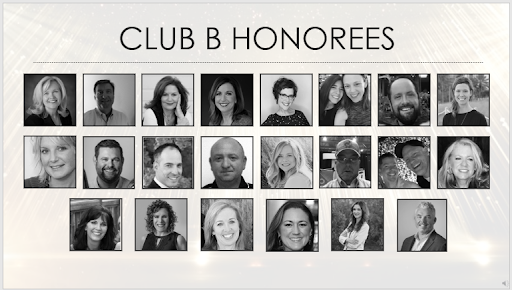 Thank you so much to Crystal D for providing the awards to our winners.
---
You should do it!
Whether for a night of thoughtfully planned and public recognition or for a social hour that breaks from the routine, you too can benefit from a virtual 'night-in' with your team!
Check out our Virtual Events blog to see all our pro tips for hosting your own virtual event!