What does Discovery mean to you? For some, it's about pushing the limits; for others, it's about finding a better way.
At Boundless, we like to think of ourselves as being a trailblazer in the promotional products industry, so it is not surprising that a theme of "Discovery" was especially meaningful at this year's Founders' Circle event. Woven throughout the strategic meetings and social events was the thread of exploration and discovery of the industry, of business opportunity, and of self.
San Antonio's La Cantera Resort & Spa in early April was the picturesque setting for this event, which every year brings our key stakeholders – Sales Professionals, Corporate Team Members, and Preferred Supplier Partners – together for a multi-day conference that focuses on ideation around new product and creative campaigns, identifying growth opportunities, and celebrating the successes of our partners. Our attendees left with new partnerships and tools to deliver even more creative solutions to their client base.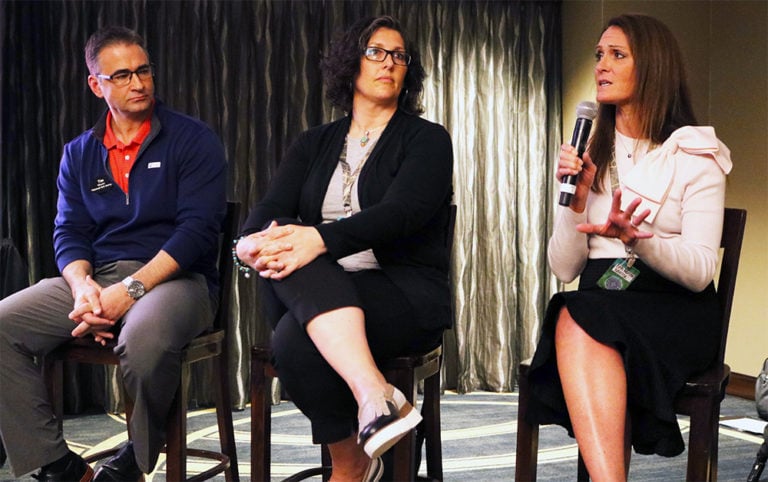 Leading off our growth sessions was an industry panel with executive leadership from the largest industry associations – PPAI's Paul Bellantone and ASI's Tim Andrews – joining remotely alongside three industry experts from some of our most strategic partners to discuss the future of the industry and trends in the marketplace. The panel explored threats and opportunities and highlighted why key partnerships are so vital to thriving in our industry.
A later session expanded on the discovery theme and included creating a 'map' of our client base in order to identify and discover key areas where we can consolidate and support our clients' brand strategy. And lastly, the final growth session shook things up with Dr. Todd Dewett, a leadership and life expert who advocates for authenticity in relationships, both in business and in life.

Not to be overlooked, the evening events were a vital component to building those relationships outside of a traditional meeting format. An Art Deco-themed ballroom was the setting for our awards banquet, celebrating the accomplishments and contributions of our Sales, Supplier, and Corporate partners to Boundless' success.
With a wall of chandeliers as the backdrop, we were thrilled to present this year's Green Jacket to none other than Graham Robbins, who has been with Boundless for nearly 10 years and has wholeheartedly embraced the Boundless Core Values.
The Green Jacket is the Boundless version of a Lifetime Achievement Award and recognizes the commitment of an individual to the Core Values and to the success of those around them. Congratulations to Graham and all of the award winners listed below for your achievements

2018 AWARD WINNERS
AWARDS- CORE VALUES
Find a Better Way
Sales – Amber George, Dallas TX
Corporate – Rebecca Klapper, Operations
Supplier – Ken Thomsen, BIC Graphic
---
Do the Right Thing
Sales – Steve Cohen, Narberth PA
Corporate – Jessica Groen, Mission Control
Supplier – Crystal D
---
Go Above & Beyond
Sales – Rick Dupon, Grand Rapids MI
Corporate – Greta Burdsal, Commissions
Supplier – Tanya McKinney & Pam Herron, SanMar
---
Contribucate
Sales – Andi Vopalensky Morales, Austin TX
Corporate – Morgan Wilks, Sales Support
Supplier – Tracy O'Neill, Spector & Co.
---
Embrace the Fun
Sales – Joe Racina, Houston TX
Corporate – Wade McMahon, Sales Support
Supplier – Katie Swinburn, Pop! Promos
---
AWARDS – PERSONA
The Rookie of the Year – David Harlow & Will Lamb (T3 Promotions), Edmond OK
The Creative – Crissy Manwaring, Las Vegas NV
The Survivor – Hunter Janda, Germantown TN
The Socialite – Stephanie Wheeler, San Diego CA
The Techie – Ellie Abbadessa, Phoenix AZ
---
AWARDS – SALES ACHIEVEMENT
Green Jacket Lifetime Achievement Award – Graham Robbins, Dallas-Fort Worth TX
Highest Sales Overall – Theresa Roberts, Phoenix AZ
Highest Sales Month – Sue and Tom Sweet, Rochester NY
Highest Team Account Sales – Kathy Kempff, Rita Hazen, Michelle Veintemillas (AHA Team)
Outstanding Performance – Shari Ziganto, Downers Grove IL
Closing with an evening of mariachi music floating over the rolling greens of the Arnold Palmer Golf Course, this year's event was one for the books. We can't wait to see where our journey leads next!