Trade show season is fast approaching, and if you want to be successful now is the time to start brainstorming. Chances are you are investing a pretty penny to host a booth, so you want to set yourself up for success and try to get the most out of your experience.
You can count on everyone at the tradeshow having similar goals as you, so it is important to differentiate yourself and avoid having a cookie cutter booth. If you make your brand one of many, you won't be able to spark a lasting connection with future clients. So, with that in mind, here are a few do's and don'ts for getting more ROI next time you exhibit at a tradeshow.
Let's get the negative out of the way first. Here is our list of no-nos:
Don't sit a basket of pens, highlighters, or stress balls on your logoed tablecloth, and expect to attract foot traffic.
Don't re-do what you did last year, and the year before that if it did not produce results.
Don't hire talent to work your booth. Prospects want a great quality product or service, so the person at your booth needs to be passionate about what they are selling.
And now, here comes the good stuff, so buckle up.

Know who is attending the show and narrow your target market.
Before you arrive at your tradeshow, it is important to know your audience so you can make sure your messaging and giveaways are targeted. Study last year's attendee list, or buy this year's list if it's in your budget, and then determine which companies/ people you would like to focus on. From there, you can zero in on the titles, industries, etc. by who typically makes the buying decisions for your products or service. Congrats! You now have your target market.
Create a targeted marketing plan.
Use your budget on promotional items, or giveaways that market exclusively to your target market instead of shooting for mass appeal. You could send a pre-show teaser to attract visits to your booth. Additionally, you could organize room drops for an extra touch. A gift bag with a surprise is a fun experience for the prospect, and won't soon be forgotten. Especially if the pre-show products you select incorporate a creative giveaway.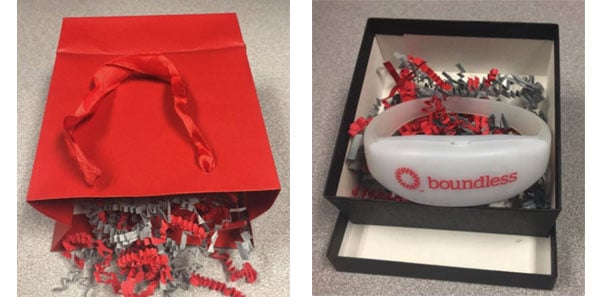 Create an experience at your booth.
This part is crucial to getting the most out of your tradeshow experience. Make a visit to your booth memorable by incorporating a theme or promotional product that will make for easy conversation during your follow up. If your products and services can't be exhibited in an interactive manner, then creating an experience becomes even more essential. Take Charity Water for instance. Charity Water creates safe and clean water sources for remote villages in developing nations that don't have a sustainable water supply. At their booths, they invite visitors to walk two 40 lb. jugs of water across a 50-yard platform. They give visitors a small taste of the experience villagers in developing nations go through every day to fetch water from rivers miles away from their home. Booth visitors won't be forgetting that experience anytime soon!
---
It is easy to get lost in the hustle and bustle at a large convention or tradeshow. Following these tips and finding the right giveaways and strategies is a must! At Boundless we are here to help—from pre-show to post-convention strategies. Let's get you geared up and ready for tradeshow season. Contact your Brand Consultant today!