What happens in New Orleans, stays in New Orleans… well this time, we hope not! The annual ProcureCon Marketing Conference was recently held in New Orleans and brought together over 150 of the best and brightest in marketing procurement, and 50 or so representatives from leading agencies, consultancies, and other suppliers in the marketing space. The conference format lent itself to a structured, yet collaborative environment that allowed industry leaders to discuss and share applicable strategies and best practices. With that in mind, we hope all of the learnings and takeaways don't stay in New Orleans! In order to keep the momentum going, we thought it would be helpful to share some of our top trend takeaways from the show.
Trend 1: Transparency
In last year's conference, there was a strong focus on agency transparency following the ANA report that exposed a significant lack of transparency earlier in 2016. A year later, it was interesting to see that supply chain transparency is a topic with some serious staying power. One notable difference, however, was the shift around the discussion in that this year the dialog was more solution-oriented and focused on tangible strategies for how practitioners can achieve more transparency in their agency relationships. It is clear that the increasing complexity in the digital marketing landscape is at the center of the lack of transparency. So we can only imagine this trend is here to stay.
So how should you respond? One quick win is to evaluate existing contracts and relationships to set the expectation to be transparent, and then hold quarterly business reviews to assess performance. The key is to align with your business partners and make sure your expectations regarding transparency are clear. Let your agencies know you're focused on creating value for the marketing team rather than just focusing on cost-cutting.
Trend 2: Complexity
Did you know that in the last 6 years the number of software and service providers in the digital marketing landscape has increased from 150 to over 5,000? With reduced barriers to entry for software or SaaS businesses, more and more providers continue to pop up. During the conference, many practitioners expressed concerns with being able to keep up with the accelerating complexity in the software world and admitted to feeling overwhelmed. This becomes increasingly more challenging when you try to balance your day job, and being innovative while also learning about new technologies.
So what should you do? Some advice that surfaced during a roundtable discussion at ProcureCon that was pretty simple but powerful was…. to simply stop. Rather than spend countless hours trying to research all that is new and become familiar with all startups, take that time to instead get focused. Identify a few key areas on a quarterly or semi-annual basis and explore new technologies in those areas rather than try to cover the full gamut.
By focusing on key areas, you will be able to be more exhaustive in your research. As an added bonus you can partner with your marketing teams to see what's coming up on their roadmap in the next quarter and use that to determine your priority. With that collaboration, you'll not only be able to focus more, but you'll be the marketing hero helping the team find a better, more efficient way to do business.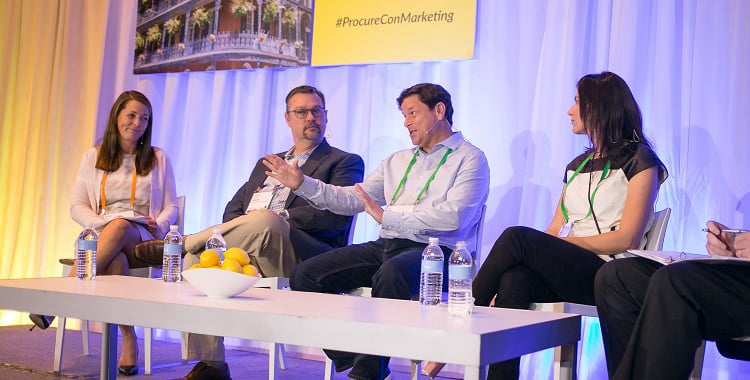 Trend 3: To Outsource or Bring In-House?
Another trend from ProcureCon that emerged was an increase of in-house teams taking on some functions that agencies have traditionally performed. Programmatic buying is one such function that we saw several companies experimenting with bringing in-house. In addition, there was some discussion around the large consultancies buying up digital agencies to add a more creative element to their business, creating some consolidation in the space. While some participants felt that creating an end-to-end solution is a good move, others questioned the large consultancies' ability to retain the most creative and valuable people. It was interesting to hear the debates regarding finding the best partners and how to gain the most value. Should you bring talent in-house to improve transparency and will that provide enough value to cover the complexity of managing internally? Or should you outsource and deal with the associated challenges to get the best results?
And while there is no one right answer, most seemed to agree that utilizing agencies for your highly creative and strategic work is effective, but that increasingly tactical work and programmatic ad buying can be brought in-house to increase visibility. In your organization, it may be worthwhile to identify which categories are ripe to test bringing in-house so you can dip your toe in the water, gain some learnings, and then decide what is best for your organization.
Trend 4: We're so over Cost Savings.
Well maybe that statement isn't entirely true, cost savings are awesome! However, this year the focus was more around driving value. In addition to hearing from agencies, we also heard from many procurement leaders that the key is focusing on adding value versus the traditional "beat suppliers up on cost". Pushing for costs savings and expecting the same quality of work is not realistic. Instead, find partners that are transparent so you feel that you are getting value and can truly partner on key initiatives. Boston Consulting Group (BCG) also mentioned that rework represents 50% of the time but 90% of spend and worse quality. This further supports the idea that continuing to shop around to try to get the same for less isn't a viable strategy.
One strategy BCG brought up was "Horses for Courses". The idea here is not to hire one main agency to manage a bunch of stuff they are not experts at, and will charge you extra for, but rather to find experts in each category. With this approach, you can find partners that are more focused, and often times more nimble and reactive to feedback. They are looking to create partnerships versus just serving as a vendor, and in these instances, you find that by working together you can optimize the process and rollout cost savings through improvements.
Trend 5: Think like a Marketer.
Finally, trend 5 presented an interesting new perspective to think like a Marketer. There were a few sessions that focused on the challenges marketing faces with constantly evolving customer demands and consequently the challenges then put on marketing procurement. As an example, how do you plan for and buy something that is constantly changing? Or how do you successfully plan when a remarkably large percentage of companies do not have clear metrics for digital attribution, i.e. knows exactly what results they get from their digital marketing efforts. Considering the big promise of digital has always been increased visibility into what part of your marketing that is actually working, it's surprising to see how many sophisticated companies still can't seem to accurately measure their digital campaigns.
So how can you start thinking like a Marketer? Several speakers gave some good insights into how to respond to this trend. For starters, as the trend suggests, you have to think like a marketer and focus on being proactive vs reactive. In addition, ensure there is close collaboration between marketing and procurement and consider building joint business plans and then hold each other accountable and review progress. As part of this, ensuring you understand Marketing's challenges and pain points will assist you in becoming an extension of their team and allow you to be proactive and prioritize your initiatives accordingly.
Lastly, leverage suppliers to help with these areas as well. A few sessions (including mine) mentioned that tapping into your supplier network to create strategic partnerships can be a great way to drive innovation and support your marketing teams. As an example, if you're creating joint business plans and understand Marketing's top challenges, you can share those in a structured way with your partners and ask them to help provide solutions. You can also set expectations with suppliers during the contract phase that you expect them to drive innovation through Innovation Summits or by providing access to beta testing.
One final takeaway we wanted to share which wasn't necessarily a trend but an overarching theme we observed was that the conference served as a validation point for several attendees in some of the common challenges that surface for marketing procurement teams. We spoke with a few individuals that mentioned that it was great to learn that some of the top organizations in the world are having similar challenges. It validated that these challenges are legitimate.
In addition, although improvements have been made to strengthen the relationship between Marketing and Procurement teams, we still have a ways to go. But by leveraging these strategies it will empower you to strengthen relationships and help bridge the gap between Marketing and Procurement.