As a company, it's important that your branded apparel stays modern and on trend. We spent the last couple of weeks researching this spring's apparel and accessory trends so you wouldn't have to! From runway to retail, these trends are relaxed and all about enjoying life. Live every day like it's spring vacation.
Vacation Vibes /'vey-key-shuh n, vahybs'/ noun
breathable, comfortable resort wear influencing this spring's apparel.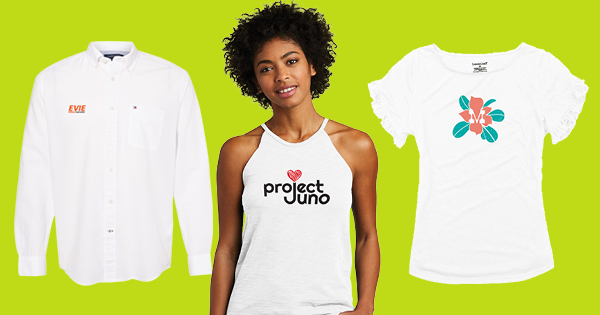 Bright Whites
Who What Wear, an international fashion company, embraced white as one of the 7 trending colors for this year's spring apparel. White button-ups, polos, blouses, and outerwear are versatile pieces that can be worn in practically any season. Additionally, since white is such a popular neutral, it is a timeless color. If you are looking for something simple that everyone will appreciate, this trend is the way to go.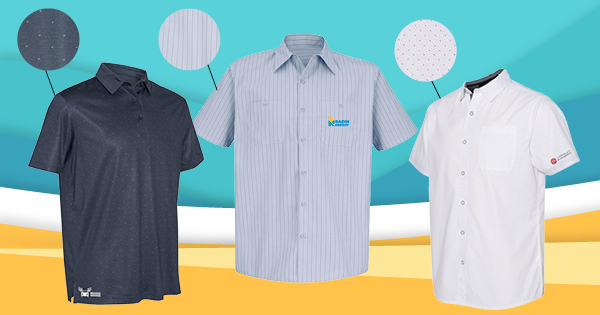 Nautical Patterns
Polka dots and pinstripes are officially back in style. Whether you're sailing out to sea or just sitting at your desk, these patterns will fit in anywhere. The subtlety of these designs is perfect for those who prefer quiet patterns while also remaining on trend.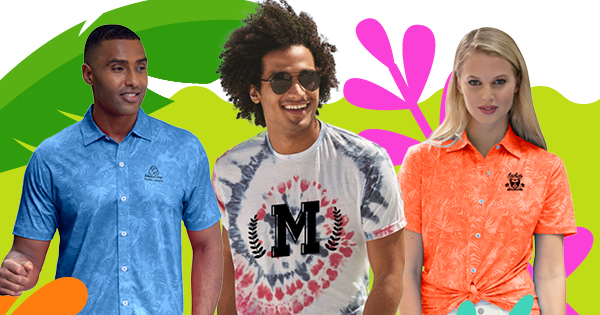 Lively Prints
Spring isn't just about simplicity. These bold and courageous tropical prints are widely popular this season and we can't get enough. Versace and Gucci even included tropical prints in their Spring 2020 lines. Need we say more?
Tie-dye started making its comeback in 2019, and it has no plans of stopping anytime soon. If you step into a Target, you'll see it everywhere! It's popularity in the retail space only proves that it will be an exceptional promotional piece.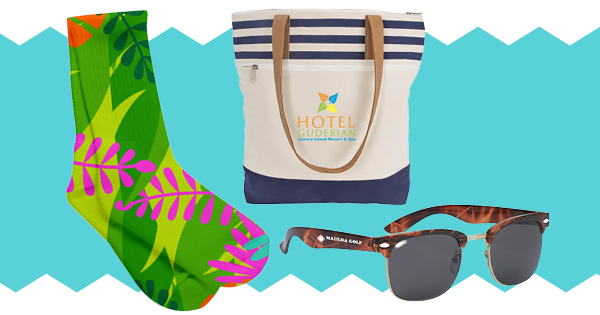 Hot Accessories
Custom socks, beachy totes, and sweet sunglasses. People are ready to enjoy the warm weather again and these are the necessities. Soaking up a little sunshine elevates your mood, improves sleep, and strengthens the immune system (Forbes). Encourage your audience to enjoy the great outdoors with these accessories!
---
These trends might seem perfect for your next weekend getaway. However, with society's focus on self-care and relaxation, these pieces will make your audience feel like every day is a vacation. Check out the full collection here.