We had the opportunity to sit down with Kelly Klein, who has been with Boundless for over 6 years. In that time, she has tripled her business! Learn more about her hobbies, and learn her secret to success in this week's blog.
Tell us a little bit about yourself.
I graduated from ASU and specialized in Marketing with a minor in International Business from Huron University in London! I am happily married and a mother of an adorable 3 year old named Piper. I like to think of myself as being pretty social, so my free time is usually spent with family and good friends! I love yoga and meditating, practicing photography, taking weekend trips, and hiking in the beautiful & magical desert that I live in (Scottsdale, Arizona)!

How did you get into the promotional products business? What do you like about it?
I worked for many years in my family's screen printing/ embroidery company so I knew the apparel side of the industry. It was at a PPAI trade show where I met Fran Ford and Theresa Roberts who piqued my interested in the promotional products division of the industry and decided to take it on! I knew Theresa to be the best in the industry, and thought, why not go work with the best? Theresa and my other co-workers have taught me so much! I love how creative this business is and I LOVE the people I work with!

What professional or personal goals do you set for yourself and how do you achieve them?
I am a strong believer in meditation and visualization. Every morning I try to spend 30 minutes meditating and centering myself before taking on any of my tasks. I also love to listen to motivational speakers, like Tony Robbins to keep me inspired. Lastly, I always write down my goals and use visualization techniques to achieve them!

What's your favorite promotional product right now and why?
I LOVE the sling grip for my phone! I also really love the vacuum sealed tumblers trend, they are the best at keeping my drinks cold or hot! I'm a big fan of both hot and iced tea so having drinkware that can keep my beverage at the right temperature is a game changer.
What is your secret to building relationships with your clients?
I don't know if it's a secret but I truly care about my clients and want to do what's best for them. I'm fortunate to have gotten to work with so many great clients who have actually gone on to become friends. When you do right by your clients and always have their best interest at heart, it keeps them coming back.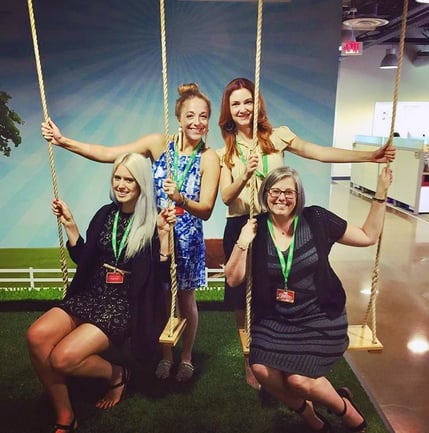 What steps do you take to make yourself a valuable resource for your clients?
I'm always available for my clients. They can get a hold of me anytime on my cell (even after hours). I also keep my finger on the pulse of new exciting products by attending trade shows and weekly supplier meetings. It's important to keep my clients informed when things go on sale or if I see something that would be a good fit for their brand I shoot them an email or give them a call. Being proactive is key!
If you could change one thing about the industry what would it be?
Get rid of paper catalogs! So wasteful!
What has been the biggest game changer in the promotional products industry in your time as a sales partner?
The industry is evolving in so many ways! Full-color imprints are more readily available, packaging has come such a long way, as well as more retail inspired products. When I first started out in this industry I had someone say, "so you're selling trinkets and trash?" This may have been the mentality of people when hearing about what I do years ago, but that's no longer the case now!

How do you see Boundless shaking up the industry?
I see Boundless as an innovator in the industry. We have such a great group of professionals and everyone is so positive and ready to help each other! Our technology platform in my opinion is the best out there! We continue to shake things up with our creativity and also in our efforts to give back to our community with our Boundless Cares initiative.