Sales Spotlight: Savanah Alpert, Boundless Brand Consultant
It's no secret that solid salespeople make the world go 'round. That's certainly the case for Boundless's Brand Consultant, Savanah Alpert.
The small-town girl from Kansas fell into a career at Boundless without a traditional background in sales. Despite the learning curve, Savanah worked her way up to become one of the top Brand Consultants at Boundless. "One of my pitch lines I frequently use is: 'I'm backed by Boundless, one of the largest distributors in our industry.' With that comes buying power, and the flexibility to offer competitive pricing," she says.
In this Sales Spotlight, Savanah dishes on her professional background, how she joined the Boundless team, and how she found such amazing success with Boundless's support.
Becoming Boundless: Savanah's journey to million dollar deals
During her time in college at Kansas State University, Savanah wasn't quite sure what she wanted to do for a living. "All I knew was I wanted to be successful and actually enjoy going to work," she says.
After college, Savanah relocated to Denver where she started her first job at a small website company that utilized her people skills in event planning.
As it turns out, Savanah had a natural gift for planning events. "When I realized event planning was what I loved, I evolved over the years. Each new job I accepted was a step up until I was eventually planning and managing 100+ events per year and 2,000-square-foot trade show exhibits. I really love trade shows. I learned I was the only one who loved them, everyone else in the company hated them!" she laughs. "I really found my niche."
It was through a job planning trade shows that Savanah met Boundless's Michele Nester, who was helping Savanah curate swag for the trade shows her company was attending. Savanah was hooked when she learned about everything promo products had to offer and became obsessed with utilizing promos in event marketing campaigns and clever marketing. "I drove sweet Michele crazy saying, 'I can get this on 4Imprint.com for $0.25 less, will you price match?' I cringe thinking back to those moments beating her up on price!"
When Savanah became a free agent again, Boundless didn't waste any time. Impressed by her enthusiasm — despite formal sales training — Michele asked Savanah to come to Boundless and work on commission.
Savanah was beyond flattered, but also hesitant to take a role that was 100% commission as a single woman just starting in the industry. She talked to family members who ran their own businesses about their annual promo spend. When she followed up by asking for promises to become their branded merchandise vendor if she joined Boundless, she took the plunge. "I thought, 'I have my first customer!' That's a good start to a job that's 100% commission," she says.
Shortly after Boundless onboarded her, Savanah's corporate event dream job came knocking. Her work ethic told her not to pass up either opportunity; there was a reason she was being presented with both opportunities at the same time. "I took what felt like a dream job as a corporate event planner for a medical device company. After getting laid off so many times, I decided to do what was best for myself and have a backup plan for when and if I got laid off again. I think my generation started the side-gig trend!"
Savanah got ramped up on Boundless and did both jobs for seven years. "I am someone who's a hard worker, and if anyone can do two jobs like this, it's me. I look back and I have absolutely no clue how I was so successful at both," she says.
"I was so lucky to have this incredible job that I loved that paid my bills, and I also had a side-gig that I love that became an incredible, inspiring side business for me — and a profitable one," Savanah explains. "In those years, I built a book of business of about $300,000."
No stranger to the difficult side of a layoff, when it happened again, Savanah took the golden opportunity to make promo sales her full-time position without hesitation. She was ready to rely on 100% commission and was ready to focus only on building her business. "Now I really gotta hustle. I definitely have to sell more than $300,000 to keep up my lifestyle," Savanah recalls.
Going full-time with Boundless was one of the most exciting times for Savanah. "Within four or five months of doing Boundless full-time, business was booming and my existing accounts had doubled. Then, I got the opportunity of a lifetime - an account going through a rebrand looking for a full-service distributor with an impressive budget. I immediately clicked with the two main buyers, and it felt like things were falling into place for the long-term," she says.
Savanah dishes on her success with Boundless
When asked about the secret to her success, Savanah believes it comes down to her experience as a corporate event planner and her unique, non-salesy approach to client relationships.
She puts herself in the client's shoes
Savanah might not have a formal background in sales, but she relies on her firsthand knowledge of her target audience to do the selling for her. "I've been a buyer so I know what responsibilities are on their plate, and I remove the swag stress so they can focus on other responsibilities," Savanah explains.
She believes it's essential for salespeople to relate to their buyers, making it possible to do what's best for every account. Thanks to having been in their shoes, Savanah can foster deeper, more helpful relationships with her clients.
Savanah focuses on product efficacy — and sustainability
Savanah talks to her clients about needs vs. wants and how their wants can help or hurt the environment. She feels comfortable relaying information about products that sell and those that people are going to throw away.
"I don't hesitate to ask: 'Are you sure you want to do that? Those are going to end up in a landfill next week.'"
Then she explains the importance of finding something with staying power, balancing efficacy and sustainability with every account.
She outsources carefully
Savanah manages several large accounts, but she acknowledges that it isn't possible to go at it alone. She works with a team that supports her and her clients' needs.
Today, Savanah has two employees to help her manage her book of business from project sourcing, checking stock, creating virtuals, entering orders, and everything else required to manage an independent book of business. "I could not do this without Emily and Lawrenz - they are such hard workers who love their job. I have the best team!" says Savanah.
Boundless supports Savanah 100%
Unlike many other Brand Consultants, Savanah didn't come to Boundless with a background in promo. She was grateful for the chance given to her by Michele Nester, who agreed to train and mentor Savanah when she made the big leap. "I would not be here without her mentorship and help. She's an incredible person who has become a friend. She always picks up the phone when I'm in crisis and is able to offer creative solutions to problems with the verbiage of a promo poet on the spot!" Savanah says.
Once she got her sea legs, Savanah looked to Boundless' support network to grow her book of business — while still enjoying the perks of being the one calling the shots. "Being a sales rep, I'm the owner of all of my accounts. I get to dictate how I run my business and prices. There's a ton of flexibility with how I want things to go," she adds.
"The marketing team is incredible. They do a very good job curating seasonal collections that are professional and inspire customers," she says. Savanah's clients also love Boundless's bi-weekly email blasts and customer-facing webinars.
Even Boundless's back-office support has saved her on multiple occasions. "I would not be as successful without the help of my sales order coordinator, Emily Smith. She understands processes and how things should go. There's no explaining to her. The ramp-up was zero. She's a problem-solver," Savanna gushes.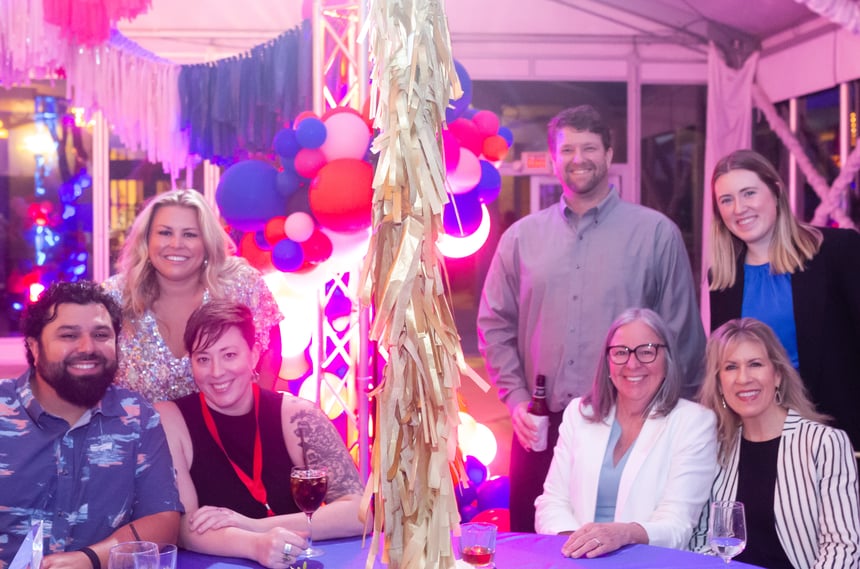 Savanah looks forward to a bright future backed by Boundless
For Savanah, going all-in with Boundless gave her ultimate freedom. "It's life changing for me to not have to answer to anyone and be my own boss," she says. Her professional journey transformed her into a go-getter and thriving sales professional. The path might not have been easy, but Savanah wouldn't have it any other way.
"This is my calling. This is what I'm meant to be doing," she concludes.
Ready to embrace the next chapter of your career in sales? Check out Boundless' Careers page to learn more about becoming a Brand Consultant like Savanah.