We're back from our industry's largest trade show and product showcase. We're excited to share our top marketing takeaways and to let you in on new and trending branded product for 2019!
I think we can all agree that the word "TREND" is the ultimate buzzword. We can't help but click on any article that highlights the latest industry trends, and our ears perk at the very mention of "new and trendy" products. Because these days it's not enough to slap your logo on just any product and call it a day. To truly be impactful your promotional products should be trendy and engaging. Sure, you can hand out an inexpensive pen with your logo on it and make an impression, but when you are able to find the right product to form a connection, that is so much more impactful.
Here at Boundless, we believe in the power of promotions and know that in order to truly make a connection product selection and keeping track of trends is key. So, with that in mind, we're fresh off the convention floor and we're ecstatic to share our top 3 trend takeaways!
Engage with Sensory Marketing
Picture this… you walk into a Westin hotel room and are greeted by a welcome kit on the bed that includes a Westin branded lavender essential oils kit and a card that invites you to sit back, relax, and enjoy your stay. After a long flight, a luxurious soak is just what you need, so you draw a warm bath, close your eyes and let the lavender scent lull you into a state of relaxation.
This is an example of sensory marketing.
Long after your stay at the Westin is over the memory of your luxurious lavender bath will linger. Why? Because this marketing tactic created an experience and tapped into multiple senses which has been proven to greatly increase memory recall and purchase intent. So, six months later when you go to book a hotel, guess which brand will be top of mind?
Visual advertisements (think billboards, print ads, web banners) only engage sight which is processed in the cortex of the brain. Smell and taste, however, are linked to the limbic system which is responsible for forming memories and emotions. Using products that engage multiple senses isn't just good marketing, it's good science too.
So why is sensory marketing trending in 2019?
With so many brands and products vying for your customers' attention, sensory marketing is your ticket to staying memorable. If you give a branded gift that engages the senses, you will be forming a memory rather than just an impression.
As I walked through the extensive rows of booths at the PPAI Expo, I "sensed" marketing opportunities everywhere. The smell of cooking bacon (literally) wafted from one booth, I tasted champagne infused jelly beans at another, and felt the softest blankets in the industry. I also received a "trade show survival kit" that included chocolate espresso beans and bath salts (which I gratefully used later that night). Even though I saw thousands of products, it was the products that engaged multiple senses that were truly memorable to me.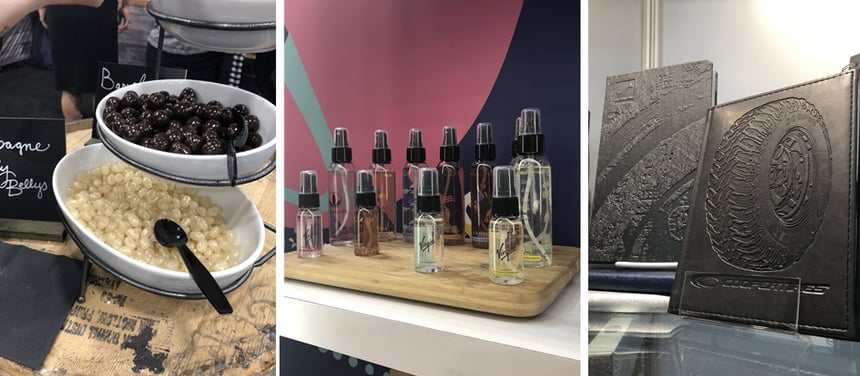 Essential oils, candles, food gifts, massagers, fuzzy socks, textured journals, velvet fabrics, and leather goods were trending in a big way at the Expo and all of them had one thing in common. You guessed it, they engage the senses in a unique way. Even something as simple as a textured journal or a scented tip-in page is all it takes to go from making an impression, to making a connection. And in marketing, that is everything.
Tap into Nostalgia
A funny thing about trends is that once they are gone, it doesn't mean they are gone for good. Let the infamous bell bottom jeans trend be a monument to the fact that trends are cyclical. And in pinpointing why trends come and go it seems like nostalgia plays a pretty large role.
While skimming through apparel at the expo I got a serious blast from the past when I spotted a row of colorful Soffe brand shorts. It had been at least 10 years since I'd seen that brand and I audibly gasped when I realized that not only was that brand around, but their shorts were available in our industry! Suddenly I was a million miles away remembering my shorts drawer that never fully closed because I insisted on buying every color. I felt the full force of nostalgia sweeping over me, taking me back to my pre-teen years.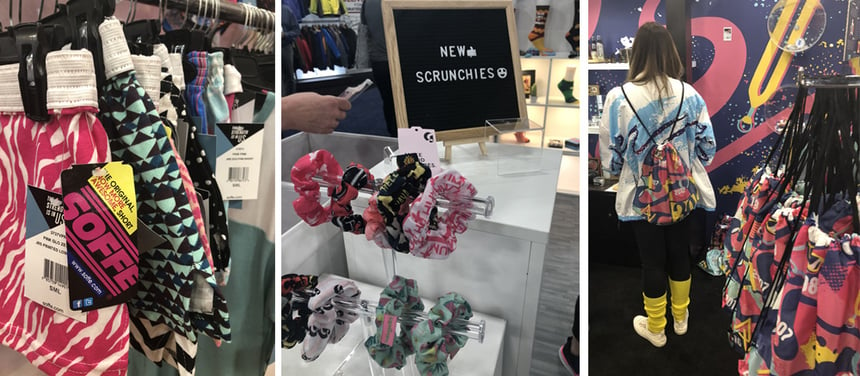 That force, the one that takes you back to a warm memory of the past, is one of the most powerful feelings that a marketer can tap into. As I walked the trade show and browsed through retail trends online, it became very apparent that nostalgia is going to play a big role for consumers in 2019.
Along with Soffe, I spotted other nostalgic brands like Coleman, Camelbak and Nalgene, and noticed that styles from the 80's and 90's heavily influenced a lot of the new product I saw. Positive references to the 90's and 80's is huge with Millennials in particular, because it helps humanize your brand and forges a meaningful connection. Products like full-color scrunchies, branded Polaroid cameras and neon cinch bags perfectly embodied Millennial nostalgia and were some of the buzziest products at the show.
And although Millennials are an important demographic to connect with, they certainly aren't the only ones who are susceptible to nostalgic marketing. In fact, another huge trend I identified was a resurgence in vintage style products that used leather, retro patterns, and rustic wood grains to evoke a sense of the past for Boomers and Gen Xer's. I spotted retro coolers and drinkware that were upgraded with modern technology, Bluetooth speakers and teal appliances that looked straight out of the 50's, and sunglasses and apparel inspired by styles past. Products that pay homage to your customer's formative years tap into authentic emotion, making them powerful branded giveaways.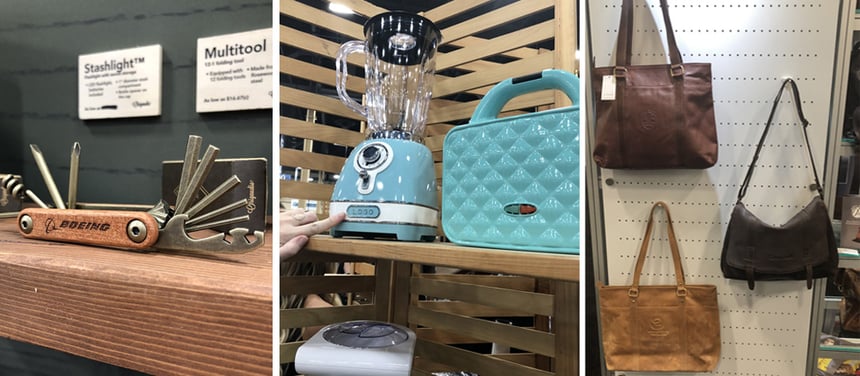 Push Customization & Creativity Boundaries
Show of hands, who out there owns a polo with a left chest imprint? What about a pen with a phone number on it? When something becomes extremely commonplace our brains stop registering it, which means if your imprint methods are unoriginal your customers may not even notice your logo. It's important to differentiate from your competitors when it comes to your branded merchandise strategy and that's where customization comes in.
Through the years I've been amazed at the technological advances I've seen in imprint methods and customization, and this year our supplier partners blew me away. When it comes to customization we're pushing the boundaries to completely new levels. It used to be that in order to achieve fully customized promotional products it would cost an arm and a leg, or you'd have to buy 5,000 pieces to even qualify for the order. But more and more suppliers are making completely custom, one-of-a-kind branded products accessible to smaller companies and large ones alike. I saw fully custom products with minimums as low as 50, and production times as low as 10 days. More and more of our supplier partners are accommodating variable data like name personalization, and the costs to do so have come down considerably. What this means for you is that even if you are working with a smaller budget, you still have tons of creative imprint and customization capabilities at your disposal.
So what products are available to customize? That list is extensive, but there were some standouts for me at the show. Custom sports equipment like full-color sublimation yoga mats, fully custom skateboards and corn hole sets were some playful and engaging finds. Custom shoes, knitted scarves and neck ties elevated the accessories category, and I was delighted to also find custom snow globes and mini brick (lego) sets too.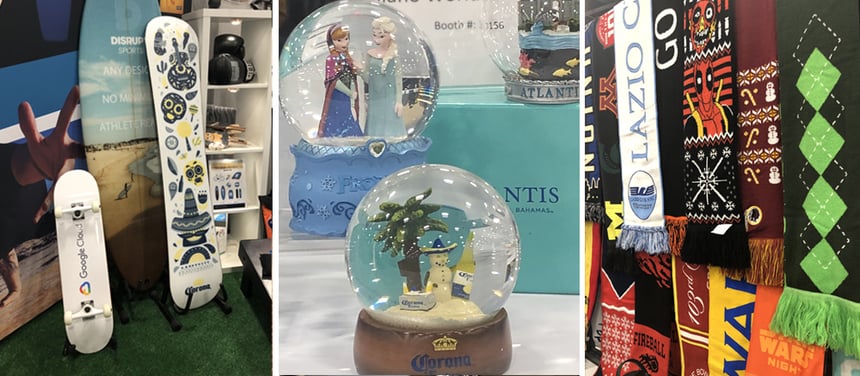 So, there you have it! Expect products that engage the senses to help with brand recall and nostalgic campaigns to forge brand loyalty. And lastly, expect creativity and customization to flourish as minimums and costs continue to drop. 2019 is going to be one for the books, and I hope you are as excited as I am to create #BrandLove together!