Inside Boundless: How Boundless Merchandises for Events
Strategic promotional product merchandising amps up the volume for any event. That's exactly what the Boundless team discovered during this year's smash-hit Founders' Circle event. In addition to wow-worthy swag bags, the Boundless team used promotional products to add clever touches throughout the event.
Peek behind the curtain to see how Boundless does promotional products for events—plus our six merchandising tips for your business's next big event.
2023 Founders' Circle in review
Every year, Boundless hosts an annual sales conference called Founders' Circle, inviting our Brand Consultants, corporate team, and valued supplier partners to get together for informative sessions, product showcases, and social events. Since the attendees are experts in promotional products, it's no wonder that the standards are set pretty high.
Just like one of our Core Values, we are constantly striving to Go Above and Beyond with the event details each year. We don't know how we'll top Founders' Circle 2023 — it was a huge hit!
Let's look at how our team crafted a thoughtful event with branded merchandise at its core.
Clever collegiate theme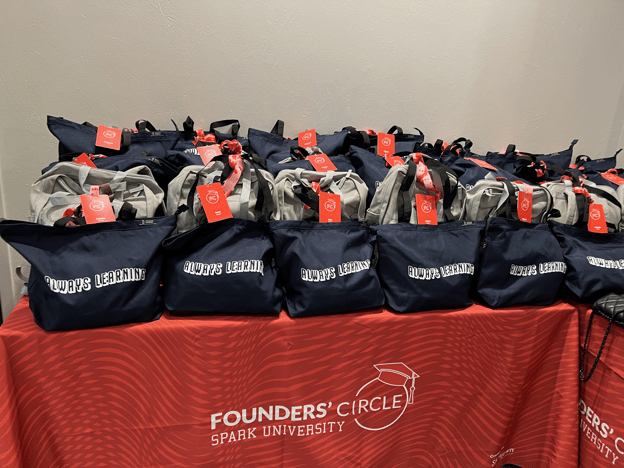 Founders' Circle 2023 embraced "Spark University" as its theme to create a collegiate, university feel—an emphasis on higher education. Boundless wanted attendees to relive the excitement of getting ready for college. Our swag bags mimicked the feeling of receiving a move-in kit when you enter the college dorms—and attendees loved opening their swag bags together in total school spirit.
What's in the bag?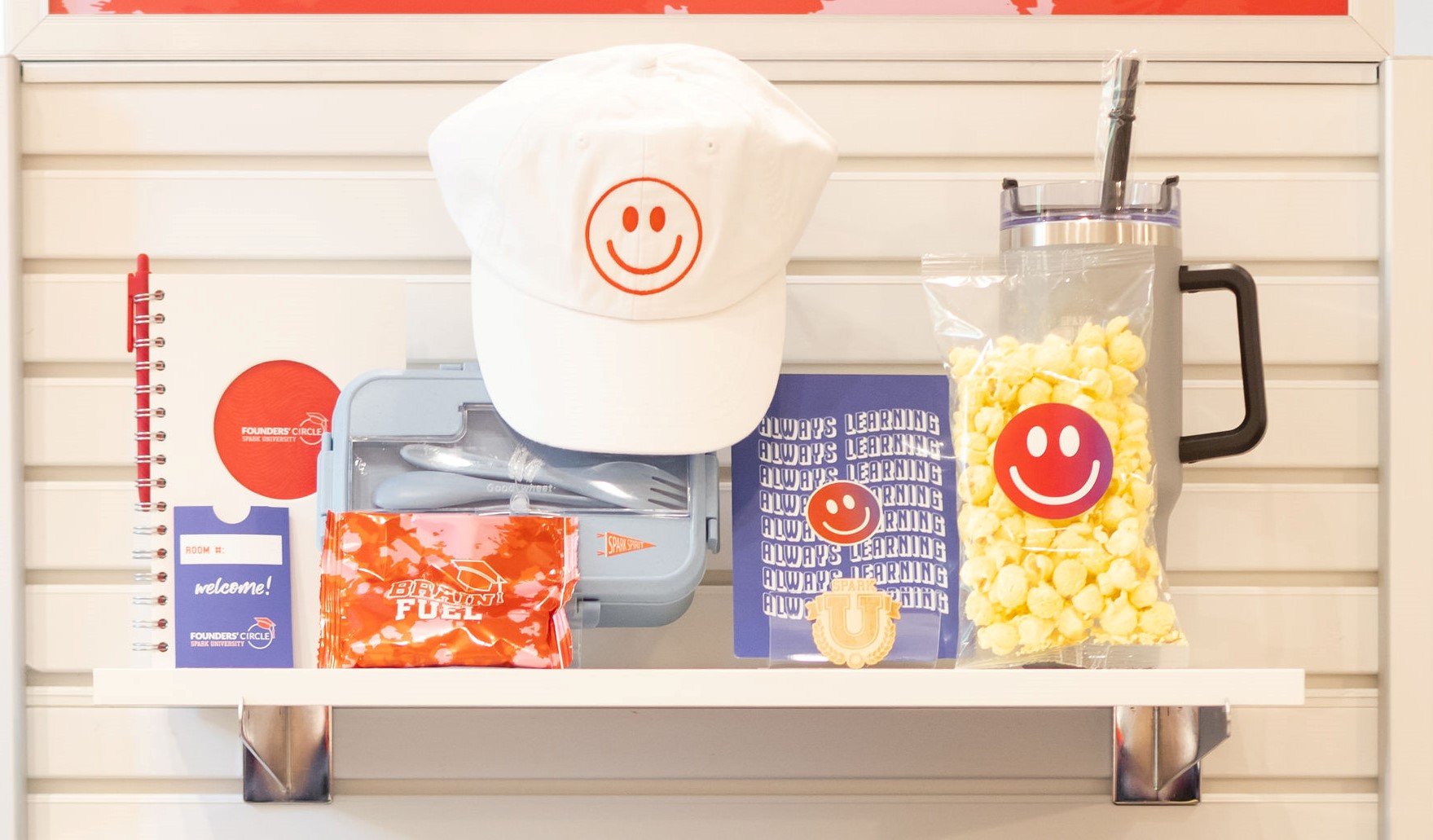 Boundless' team worked to find products to create a cohesive university theme. With more than 180 attendees and 18 items per swag bag, this was no small feat! In fact, Boundless put together two bags because there was so much product to give out.
This year's welcome bag included:
A lot of apparel pieces, including custom socks, a long-sleeved tee, a hooded sweatshirt, and a crewneck sweatshirt
Backpack
Lip balm with carabiner
Zippered tote bag
Custom belt bag
Snack packs
Eco-friendly wheat straw bento box
40 oz tumbler water bottle (an awesome Stanley dupe!)
Wooden stickers
Journal and pen — for all the noteworthy sessions!
Slide sandals
This was an excellent opportunity for the Boundless sales team to receive trending products while providing our suppliers a chance to shine.
We gave out swag bags during registration with interaction and engagement being top-of-mind. To take things a step further, we knew we wanted an extra element. Slide-style sandals are having a moment in retail right now, so each attendee also selected a pair of slides in their size at registration.
This was our first time providing shoes at a Founders' Circle event, so this made for a memorable experience right off the bat. We leaned on the demographic info that we'd already collected to make sure that we had an assortment of sizes to choose from. Some attendees were so excited that they removed their shoes at check-in to try on the slides!
Clever product displays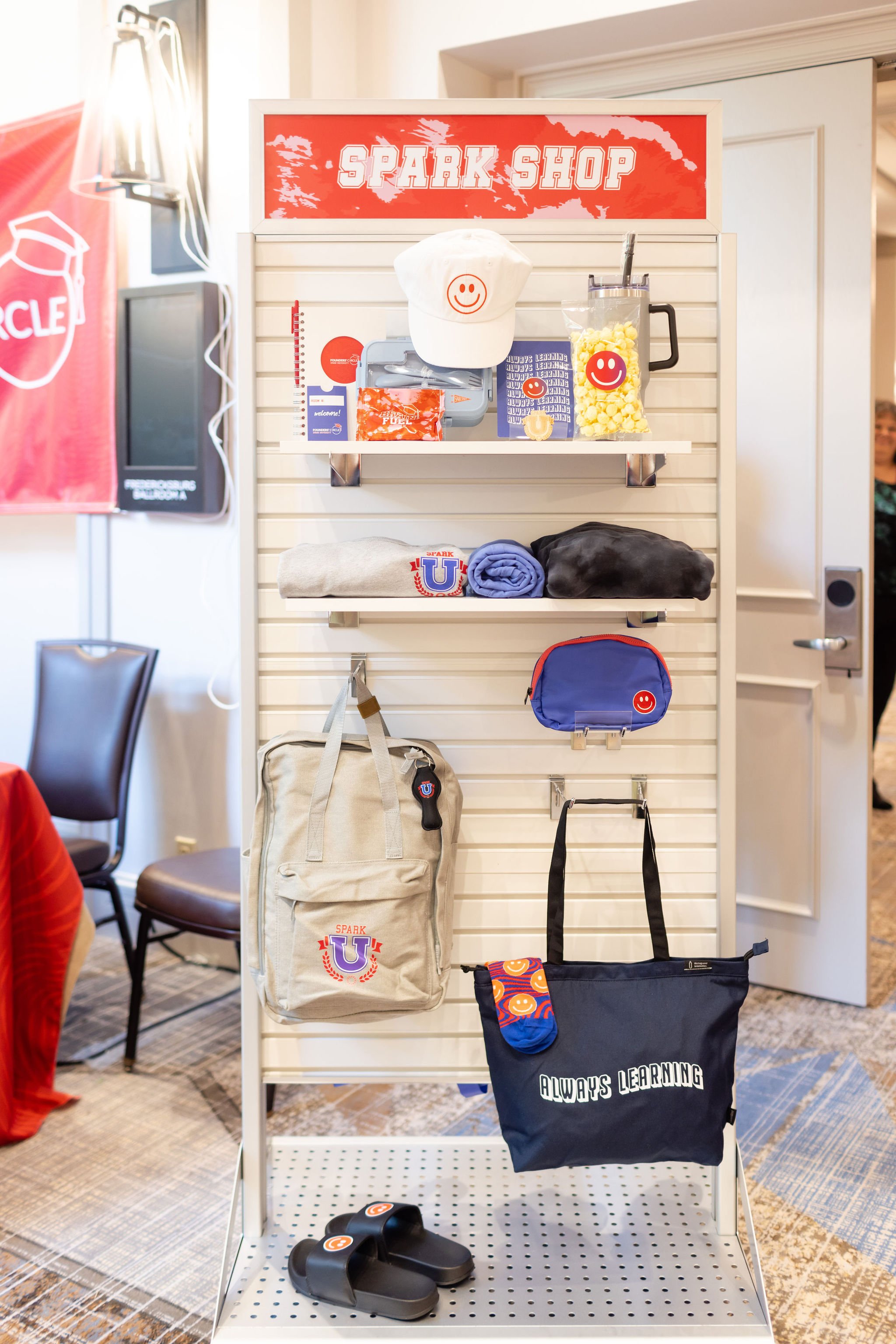 For past Founders' Circle events, Boundless displayed promotional products on a flat table. Attendees could walk by the table to better see what was inside their swag bags, but we felt like that lacked a wow factor.
For Spark University, Boundless wanted to re-create the feeling of buying goods from a university bookstore. We ordered slat wall displays to show off this year's promotional products in a unique vertical format. Instead of digging through their bags to see what they had, attendees could spot the products on a high-quality, retail-style display that put the promo products front and center.
Ultimate barbecue challenge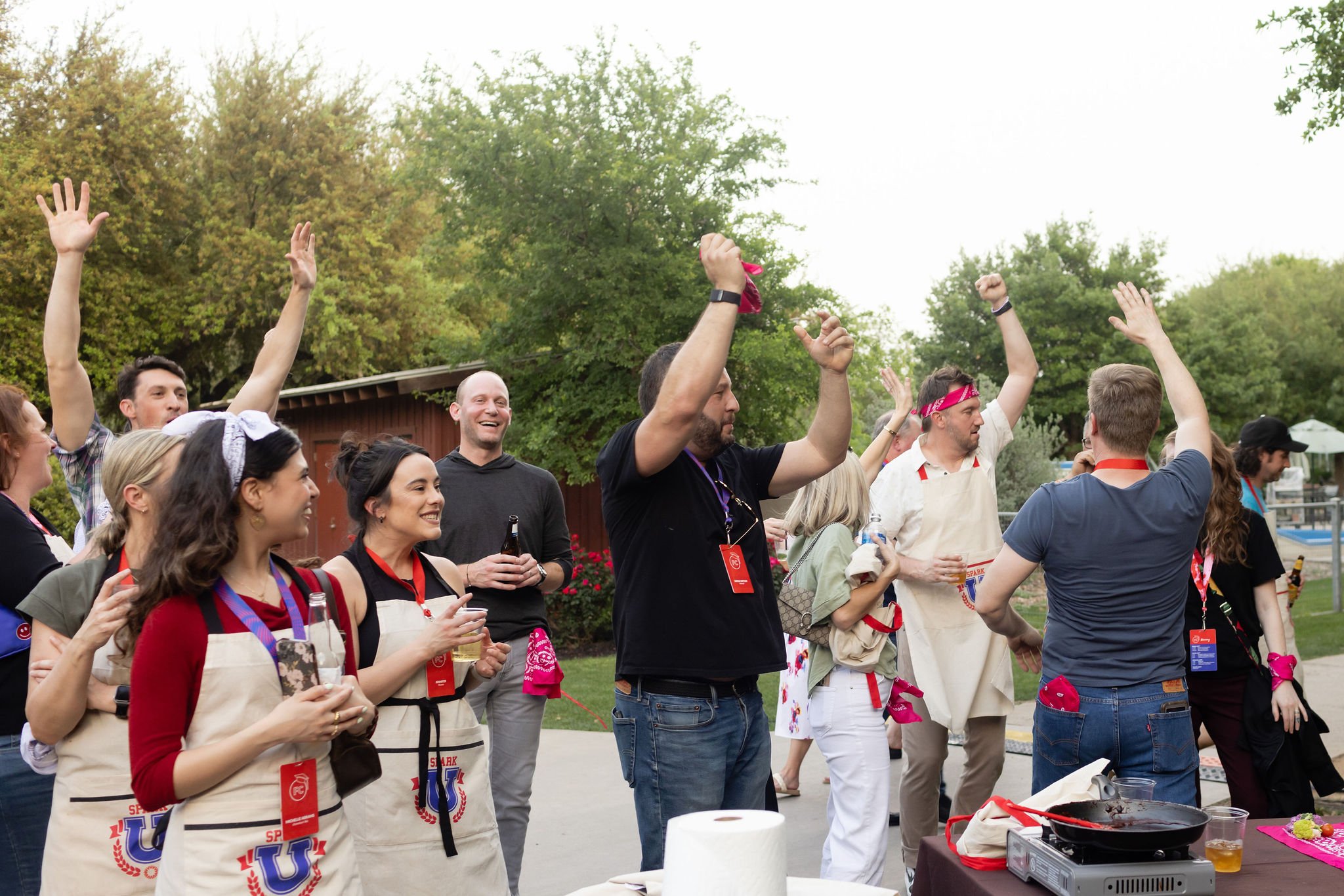 We wanted to do something more out-of-the-box than your typical icebreaker event. When attendees checked into the event, Boundless gave everyone a bandana in varying colors. We told attendees to hang onto their bandanas for an icebreaker game but kept the event a surprise to build anticipation.
In reality, the bandanas separated attendees into 16 cross-functional teams of suppliers, the corporate team, and the sales team for a raucous barbecue sauce challenge. Complete with a hilarious host, judges, and sabotages, and branded aprons (of course!), the contest had high participation and encouraged everyone to work together. It helped set the tone for the rest of the event!
Homecoming awards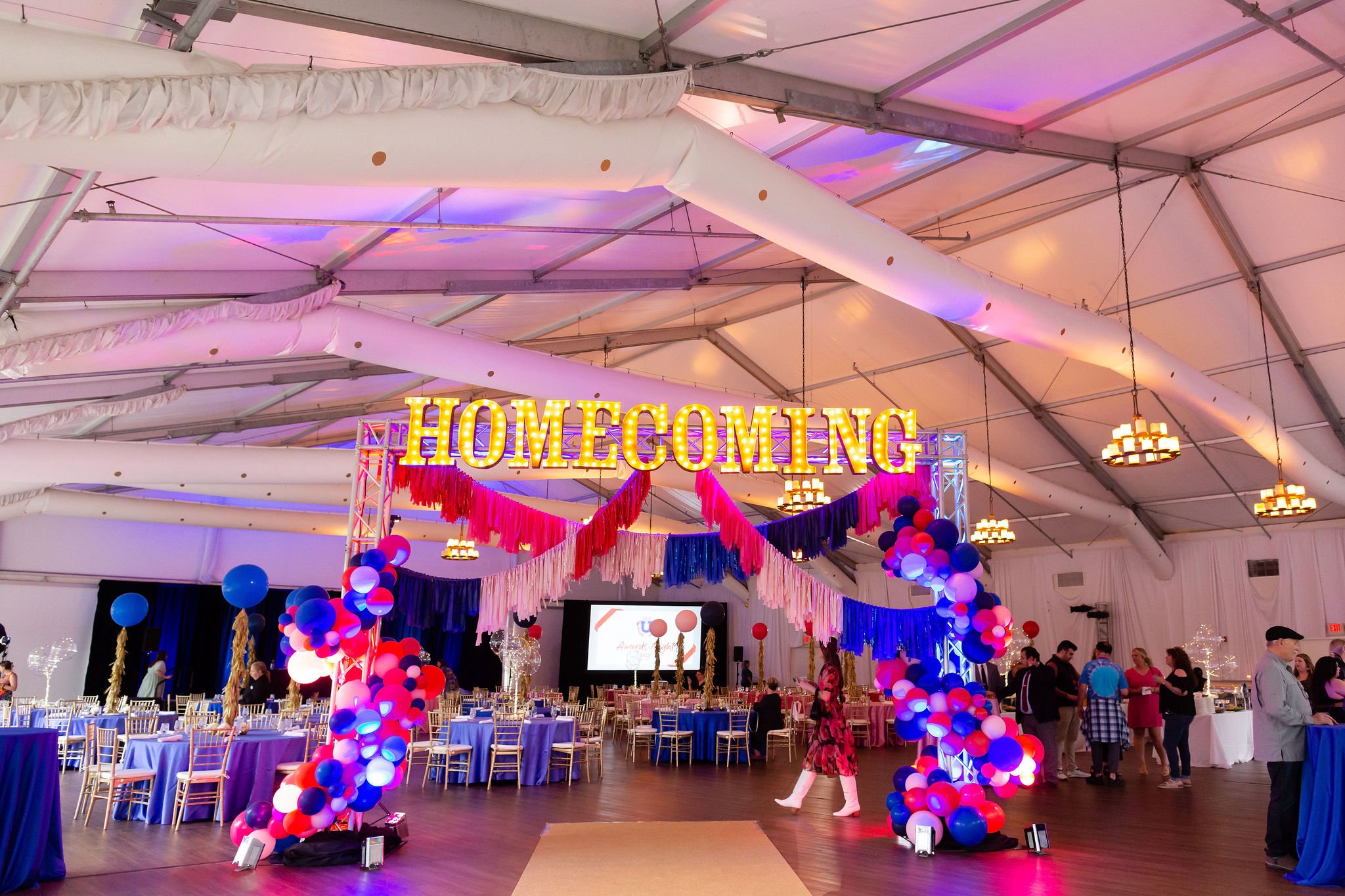 No collegiate experience is complete without a big homecoming experience, and that's exactly what we did for the Founders' Circle awards night. We decorated the room like a school's homecoming, complete with a gold carpet runway, light-up letters, and a balloon trellis. We even hired a local high school drumline to play as attendees filed into the ballroom!
By integrating the theme into every part of the event—and not just with the swag—attendees said it was an inspiring, high-quality experience they'll always remember.
Boundless's 6 event merchandising tips
Founders' Circle 2023 was certainly one for the history books. If you're hosting an event of your own, these best practices can help you make the most of promotional product merchandising for your next corporate event.
1. Make a plan for accurate sizing
When attendees registered for Founders' Circle, the registration process required them to share their clothing sizes beforehand. This ensured Boundless had the right sizes and quantities for attendees, although it certainly didn't hurt that we had a few extras of each size.
Instead of asking attendees for their sizes at check-in, the Boundless team worked hard to pre-pack each bag with the right sizes for every attendee. The Founders' Circle book bags didn't contain apparel, which made them easy to fill.
For the apparel tote bags, the Boundless team added an attendee's lanyard to each bag and called out the required sizes and products for each attendee, assembly line style. It requires a bit more preparation and effort during the pre-event planning, but it helps the attendee experience remain seamless.
During check-in, attendees simply had to provide their name, and the Boundless team found the bag with their badge on it, ready to go with the correct products and sizes.
2. Always choose a theme
If you want to create a full-circle event where you can add small but meaningful touches, a theme is a must.
There are so many cool promotional products out there, and picking the right mix for your event can be tough. A theme makes the experience more cohesive for attendees and makes your job easier as an event planner. Everything from the color palette to decorations should tie into the theme, which makes your promotional products even more cohesive.
You don't have to think of the perfect theme all at once, either. The Boundless team logs theme ideas throughout the year and consults the master list when it's time to firm up a theme. You can be inspired by the city, the venue, or anything that feels current for your audience! Create a shared Google Doc or Excel spreadsheet to track these ideas when inspiration strikes.
3. Plan as far in advance as possible
Advance planning is a must for any event, but we recommend having as much time on your side as possible, especially when ordering promotional products.
We picked a theme for Founders' Circle as soon as we had a venue and event date. Once you have a date for the event, you can work backward with your Brand Consultant to calculate shipping dates for promotional products.
Having a year to plan the 2023 event worked to our advantage, especially because many of the products we wanted were out of stock. We had to adjust our plans and wait a little longer for certain items, so we were grateful we started with plenty of time to spare. When you're always ahead of schedule, you can make changes to your promotional product merchandising without derailing your original vision.
4. Source creatively
Consider all the ways that you can be creative with your product sourcing. For Founders' Circle, we worked with our trusted partners to create the welcome bags. Who in your circle will make a great sponsor or co-brander? Be sure to work with a company that makes sense for your event.
Your Boundless Brand Consultant can help you flesh out creative merchandising options. In a pinch, use clever branding and design to choose the right mix of promotional products for your event.
5. Fill swag bags carefully
Some businesses pack their swag bags ahead of the event and transport them to the event, ready to go. We've tried that in the past and found that it can add the extra work of re-packing bags. Sometimes promo products would fall out of the bags in transit and cause more chaos.
Instead, Boundless fills all swag bags on-site. We open boxes of products when we receive them to ensure we're happy with each item before sealing and labeling the boxes. We hire movers to take these boxes to the event, where we call for all hands on deck to help fill the swag bags.
If you want to streamline how you fill bags, create an assembly line with your team. Each person fills one item in each bag to ensure nothing is missing. Just put on some music and have a great time as a team!
6. Merchandise beyond the registration table
While the swag bags were a hit, we didn't stop thinking about merchandising once we had picked all the items to be handed out.
Remember the BBQ challenge? We wanted to create a lasting impression there, too. Finding the right team identification — the bandanas — was key because it didn't give away the event too early and let everyone attach to a team color.
The homecoming awards ceremony was a huge success and included specialized awards in each category.
Think about where else to consider the small touches that will elevate the wow factor at your next event. Providing a pen set that writes in your brand colors with journals to take notes at the first speaker of the week is a great way to start strong and remind your guests that you've thought of everything.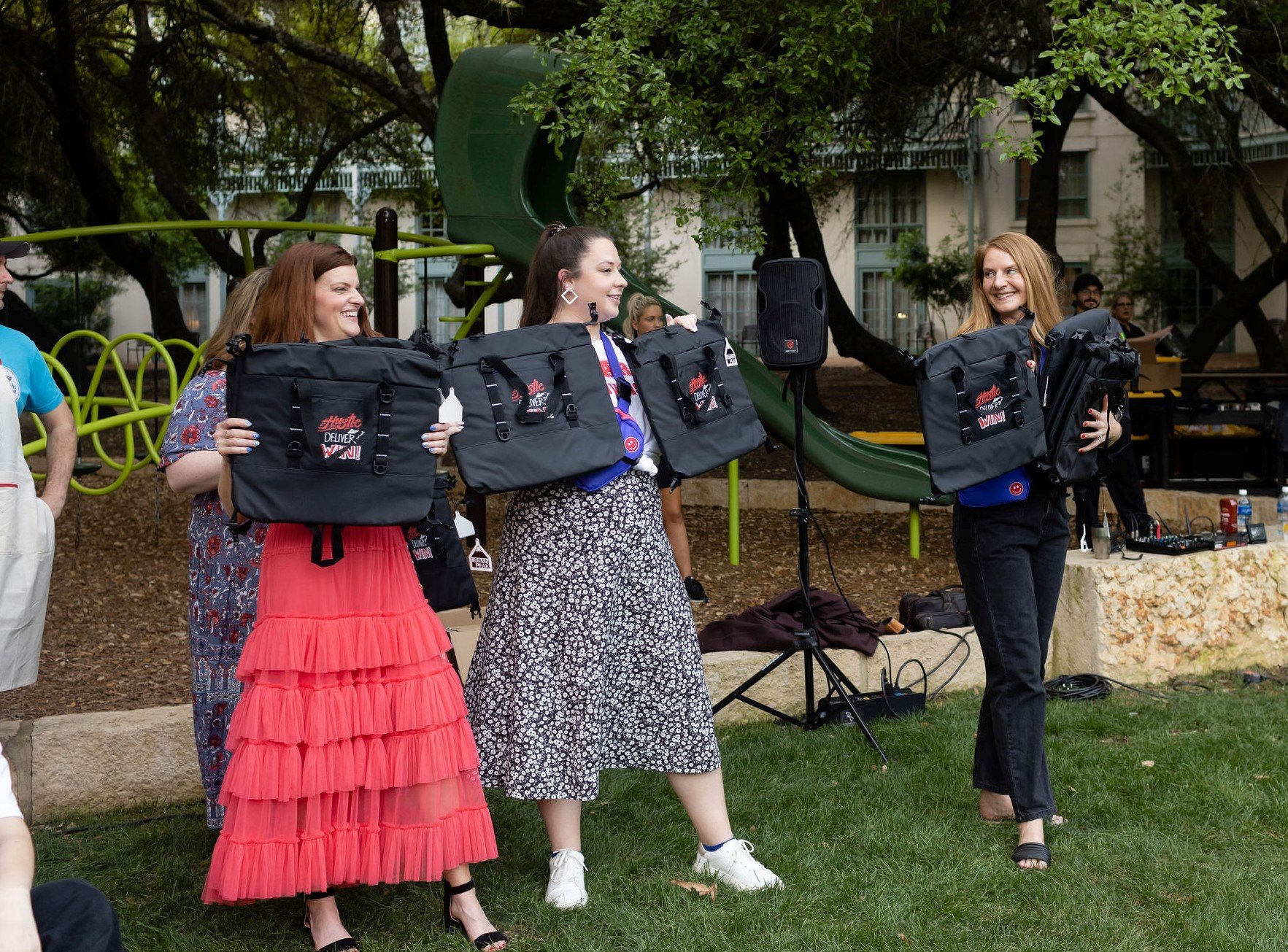 Choose promotional products that make an impact
Ultimately, the goal of promotional product merchandising is to create a lasting memory of the event. When attendees unpack their goodies at home, you want them to remember the great time they had.
Many attendees still have their 2022 Founders' Circle goodies, and we expect them to hang onto their 2023 swag for years to come. When in doubt, follow these important merchandising tips, and contact a Boundless Brand Consultant to Inspire Brand Love™ and make a big impression at your next event.