To augment our ongoing sustainability initiative, we at Boundless recently showcased our full line of eco-conscious products through our incredible suppliers that effortlessly answer the call of the wild, and in strides.
From eco-viable, biodegradable items to products manufactured from recycled and renewable materials, we like to highlight how superbly simple it is to make conscious product choices for your next client gift set, onboarding kit, team building box, and more.
Eco-Wear…
…can be anything from t-shirts and sweaters made from sustainably sourced cotton that is grown using less water, to trucker caps made from recycled polyester and twill. A term coined by HanesBrands' Alternative Apparel line, Earthleisure is all about casual and comfortable clothing made with our planet in mind, and we're all about it.
Eco-wear is not only stylish, comfortable, and made from sustainable materials, but many eco lines also give back to social, fair labor, and environmental initiatives that not only help out the planet, but also encourage social reform and acceptance from all walks.
And you know what, we're really into that.

Recycled & Renewable Products
Many renewable products use replenishable materials like wood, bamboo, cork, straw, linseed, cotton, soy, and wool, while also using less energy and regenerative water sources during manufacturing.
Instead of a traditional pen and notebook combination, consider a sustainable mineral pen paired with a notebook made from discarded paper, cork, heather, or even apple peels (they smell incredibly delicious, y'all!). Instead of a custom-branded umbrella with a fiberglass or plastic shaft, choose one designed with a bamboo shaft. It's just as durable and, in our opinion, more on-trend.
Fabrics can also be made from recycled plastic water bottles, reclaimed cotton, and other materials that used to be something else entirely! Consider this sustainable option when looking at backpacks, luggage pieces, or even something as simple as a cinch bag.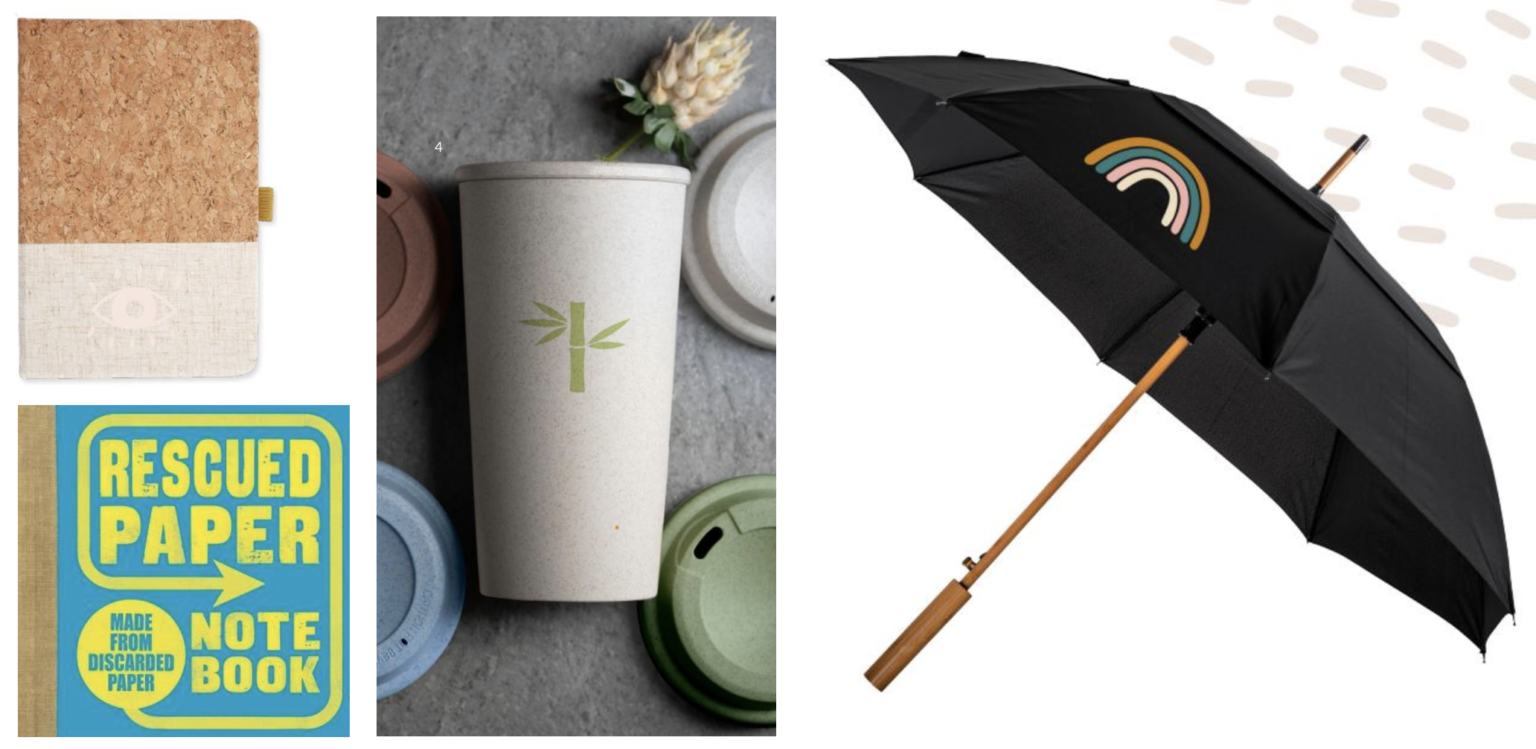 Plant-Based Products & Biodegradables
One of our favorite tiers of eco-viable products are plant-based and biodegradable. Products made of wheat straw, wood, cork, stone, and bamboo are extremely trend-forward, stylish, and high quality. The Stick and Stone Collection is a unique assortment of plant- and limestone-based tech items designed for your desktop. Yep, you read that right – tech made from trees and rocks.
Packaging and shipping also contribute to waste, so HanesBrands answered with oxo-biodegradable mailer bags and reusable packaging options.

Conscious Living
At Boundless, we believe that sustainability goes even further beyond product. We believe that for the earth to continue its upward trajectory and to thrive, its people also need to thrive. Hours spent behind a desk, shut away inside an office or behind a computer screen… well, that just isn't sustainable. We began in nature, and we want to encourage y'all to take a little time to re-center with nature.
Get outdoors. Jump in the lake. Smell the pines. Go for a hike. And when you do, consider taking along some Conscious Living gear like a waterproof speaker, fauxflame LED lantern, a solar powered device charger, a relaxing camper chair, or even a cornhole set!

To check out all the sustainable and conscious products we recently showcased, check out the Eco-Friendly Products Idea Book today!