How to Choose Promotional Products that Generate Brand Buzz
Want to cut through the digital clutter of viral dances, selfies, and competitor content? The answer isn't to funnel more money into digital ads, at least not as a standalone singular tactic. There are other ways to reach your audience that are simply more effective at cutting through the noise.
You can earn more mindshare with your audience by marketing your brand IRL. Promotional products are the best way to work around sky-high advertising costs and actually connect with your audience on a daily basis. In fact, 92% of people will keep a promo product if it's useful, and a whopping 85% of people will do business with an advertiser after receiving a promotional product.
Sounds awesome, right? Well, if we're being honest, promotional products aren't one size fits all; some will align with your brand better than others. You need to think carefully about your marketing strategy and choose promotional products that serve that strategy. Follow these seven tips to choose promo products that generate the most buzz for your budget.
1. Set a campaign goal first
Marketing without a goal is like driving without a destination: it's pointless and wasteful. What do you want to get out of your promotional products? Why are you doing this in the first place?
Sit down with your marketing team and come up with a specific goal for the campaign. This is different for every brand, but common goals are:
Better brand recognition

Improved

net promoter score

More referrals

Increased email list subscribers
You get the idea. Set a SMART goal for your promotional product campaign so you can choose better products that serve your goals.
2. Set a budget and stick to it
Yes, great promotional products will cost you money. That's why you have to be a good steward of your marketing budget so you don't wreck your ROI. That means approaching promotional products as an investment. Since marketing spend has a direct effect on ROI, you need to set a budget before you shop for promotional items.
There's no universal "ideal budget." You just need to have a budget range that works best for your business. This helps you choose products that fit within your costs so you don't blow your budget.
3. Know your audience
Not everyone is as tech savvy so maybe a certain audience wouldn't connect with drones and charging docks as well as another. That's why you need to know your audience before you choose any promotional products.
Take some time to profile your audience in terms of:
Age

Gender

Career

Hobbies

Finances
For example, if you're catering to Millennial office workers, a DIY plant kit would work wonders. You might whip out popular luxury items like Beats headphones if you're meeting with high-powered executives. Your target audience will have a huge effect on your promotional products, so always think about the people who are receiving your giveaways.
Don't guess what your audience wants. If you're not sure, you can always conduct paid interviews with some of your favorite customers. Ask them what kind of swag they would enjoy and actually use.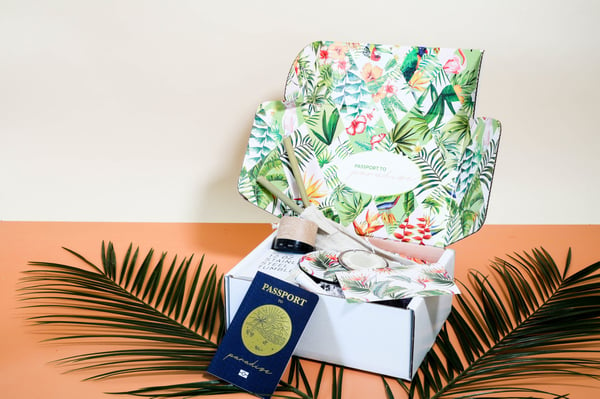 4. Make it visual
Sure, your logo needs to make an appearance on your promotional products. But who says promotional products have to look ugly or tacky?
We live in an age where everything needs to be Instagrammable. The more visually appealing your promotional products, the more likely customers are to use them for the long term.
Choose products that come in trendy colors, patterns, or designs. The human eye gravitates to visually pleasing designs, so invest in products that people want to look at.
5. Go for useful, long-term products
It's popular for companies to pass out single-use branded products like cookies, sticky notes, or beauty masks. The problem is that single-use items don't have a lot of staying power. Once someone uses that product, much of the value associated with it disappears.
That's why you should choose long-term products that last at least two years. The more repeated exposure that product gets, the better. That means choosing products like:
T-shirts

Drinkware

Hats

Calendars

Headphones

Sunglasses

Umbrellas
When in doubt, choose promotional products that people use on a daily basis. The more practical it is, the better.
6. Pick products that reflect your brand
Remember, promotional products are a physical representation of your brand. If you want people to remember you, try to choose products that tie in with your brand, values, or mission.
For example, if you're an eco-friendly paper company, maybe that means handing out swag made from eco-friendly materials. An education company might give away pencils with cute designs and a food brand could give away free mini cookbooks.
In a crowded market, your promotional products are your brand. Generic, low-quality freebies won't do your business any favors. Keep your image in mind when you're flipping through a catalog of promotional products.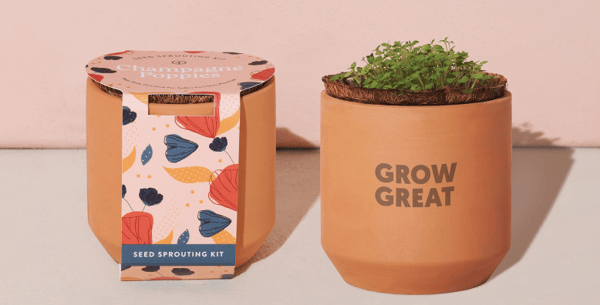 7. Choose something out of the box
We don't have anything against pens or frisbees, but aren't they a little overplayed? How is your stack of pens going to stand out from the countless other pens attendees stash in their conference swag bags?
You don't have to obey the status quo. It's totally fine (and even encouraged!) to think outside the box with your promotional items. The more unusual and quirky, the more likely customers will be to keep the product and remember your brand for the long haul.
Of course, you shouldn't go too crazy here. Your audience still needs to be able to use the product on a daily basis. Try different promotional products like:
Fanny packs (the 90s are back!)

Wireless earbuds

Nail polish

Throw blankets

Yoga mats

Cutting boards

Gardening kits

Coasters
… and more to create big buzz for your brand.
The bottom line
Low-quality swag clogs landfills, wastes your marketing budget, and doesn't generate much of a return. But when you choose the right promotional products, you'll connect with customers on a daily basis with fewer distractions — and that's an ROI goldmine.
While you're free to choose promotional products on your own with the help of these seven tips, you don't have to do it alone. Boundless helps brands transform ordinary products into extraordinary campaigns. Get in touch now to tap our team's expertise in all things marketing and promotions.