"The principle mark of genius is not perfection but originality, the opening of new frontiers."
Founders' Circle may not be perfect, but it is certainly an original. This one-of-a-kind event brings together our key stakeholders every year for a 3-day event consisting of team building, strategic meetings, and social gatherings. This year's theme, "New Frontiers," was inspired by the sense of grandeur and tradition that echoed off the marble floors and stained-glass skylights of this year's venue, the historic Driskill Hotel. A landmark in Downtown Austin dating back to the late 1800s, the Driskill reminds us of our core foundations in creativity, technological innovation, and product expertise. Rooted in these values, we have the tenacity to move forward into uncharted territory, pushing the boundaries of the 3 P's of Promotion: our People, our Platform, and our Product. Our schedule kicked off with a state-of-the-union from CEO Henrik and moved quickly into networking sessions with attending Suppliers. The afternoon led off with some trivia team-building and an educational panel focusing on our first P – People. Some of the company's top creative minds shared their experience and insight into how they bring innovative solutions and value to their clients, from one-off out-of-the-box custom projects to tried-and-true programs.

More networking sessions and education followed on Day 2, including a presentation focusing on Product and Market Trends from SanMar's Vicki Ostrom and a panel discussion focusing on how the Boundless Platform can be leveraged creatively in support of our clients and our business. Not to be overlooked, the evening events were a vital component to building our supplier and internal relationships outside of a traditional meeting format. From the opening reception at a rooftop hotspot to the closing Western-themed boot-scoot, we so enjoyed having rare face-time with our partners that we don't get to see very often. The highlight of our evening events, however, was the Awards Banquet. Just yards away from the original office location where it all started, we were elated to present the Boundless version of a lifetime achievement award (the Green Jacket), to Andi Vopalensky Morales. Andi started her partnership with Boundless as a corporate team member and has since grown into a creative powerhouse who excels in her field. We are so honored to recognize her for embracing the Core Values and for contributing to the success of her peers.
Congratulations to Andi and all the award winners listed below for your achievements!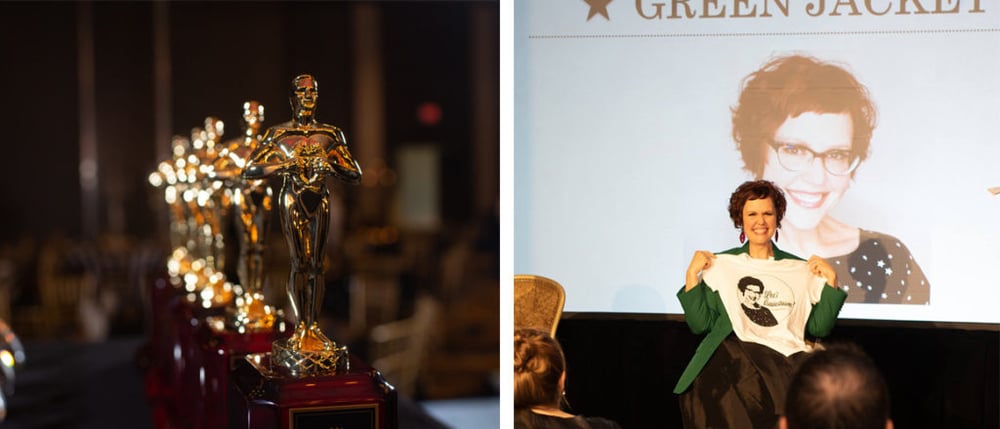 2019 AWARD WINNERS
SALES ACHIEVEMENT
Green Jacket, Lifetime Achievement Award – Andi Vopalensky Morales, Austin TX
Highest Sales Overall – Theresa Roberts, Phoenix AZ
Highest Sales Month – Theresa Roberts, Phoenix AZ
Highest Team Account Sales – Rita Hazen, Kim Esson, & Carrie Nolen (AHA Team)
Outstanding Performance – Charmaine Poteet, Fort Worth TX
PERSONA
The Rookie of the Year – Joe Holland, Austin TX
The Creative – Rixie McKool, Santa Fe NM
The Socialite – Nicole McNamee, Memphis TN
The Techie(s) – Ellen Allentoff & Leigh Lednicky (Team Panasonic)
The Trailblazer(s) – Brandee Scott & Jennifer Mora
The Fixer – Kim Esson, Dallas TX
TEAM ACHIEVEMENT : Boundless Development Team
Bob Nolen
Jason Nelson
Jaye Garcia-Glennie
Meg Ashby
Nancy Grimes
Robert Freeman
Robert Phillips
Varun Chodavarapu
Mark Lopez
---
CORE VALUES
Find a Better Way
Sales – Jackie Clements, Austin TX
Corporate – Mary Russell, Accounting
Supplier – Charity Gibson, Peerless
Do the Right Thing
Sales – Kelly Klein, Phoenix AZ
Corporate – Rachael Wahlgreen, Operations
Supplier – PCNA Team, Polyconcept North America
Go Above & Beyond
Sales – Crissy Manwaring, Las Vegas NV
Corporate – River Garza, Sales Support
Supplier – Tanya McKinney & Pam Herron, SanMar
Embrace the Fun
Sales – Shane Maddox, San Francisco CA
Corporate – Jeffrey Michael, IT
Supplier – Alex Symms, Chameleon Like
Contribucate
Sales – Peter Weinstein, Los Angeles CA
Corporate – Tracy LaFountain, Accounting
Supplier – Nick LaTeur, AP Specialties
---
Cheers to another successful Founders' Circle! We are thankful for continued growth and partnership with our stakeholders, and we look forward to using learnings from the event to keep pushing Boundless to new frontiers!