Every year, we host our annual Founders' Circle, an event that's more than just a sales conference. It's the one time of year when the Boundless corporate employees and our incredible nationwide salesfolk descend upon beautiful downtown Austin and celebrate the previous year's accomplishments with cheer and camaraderie.
In the spirit of maintaining those bright and personal ties with all of our people, this year we went virtual with Founders' Lite! Nope, it's not the name of a light beer.
All In the Name of Light
As Founders' Lite suggests, we centered the theme of the conference on light, brightness, brevity, and joy. We carried the theme throughout the entire event: a luminous awards ceremony, casual coffee chats, bright and personalized educational sessions, and event branding that tied it all together with sunny colors and themed icons.
The inspiration for the light theme sparked (pun intended) from our diverse and fun-loving Boundless people. We're drawn to each other because of our values, work ethic, innovation, and care for one another. Founders' Lite was a way we could effectively share our collective glow, inspire new ideas, tell some sales success stories, and ultimately grow ourselves and our business.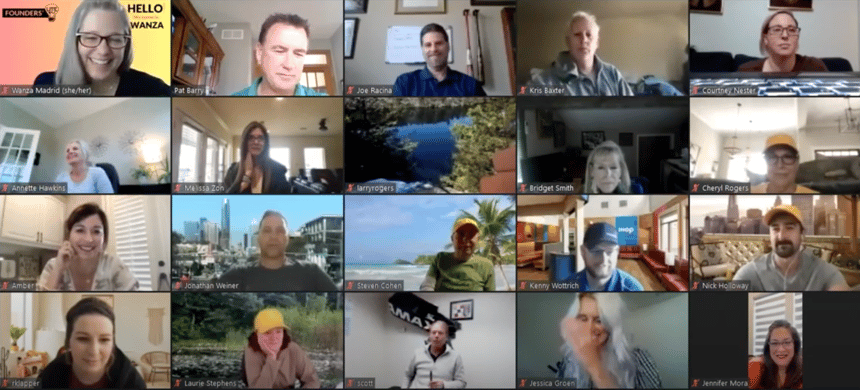 The Lite Box
It wouldn't be a Boundless event without an amazing collection of branded products! We created and distributed a Lite Box to all of our participants, packed to the brim with items curated specially to serve the virtual format and branded for the event with a bright and happy gradient and event-specific icons like a lightbulb and lightning bolt.
These items included a light-up spinning wand for visual "applause" during our opening night award ceremony, subtly stylish blue-light glasses to keep our participants' eyes protected during virtual sessions, a ring light to keep our participants looking bright and fresh, "Spark Success" matchbook prompts to inspire conversation, and a super happy lightbulb cap for a Zoom-worthy apparel piece.
We also included an Orb insulated bottle to keep coffee within reach, a gradient journal + highlighter combo to keep notes during sessions, a slim can insulator for happy hour refreshments, and a KIND Bar to help our participants get through the midday slump.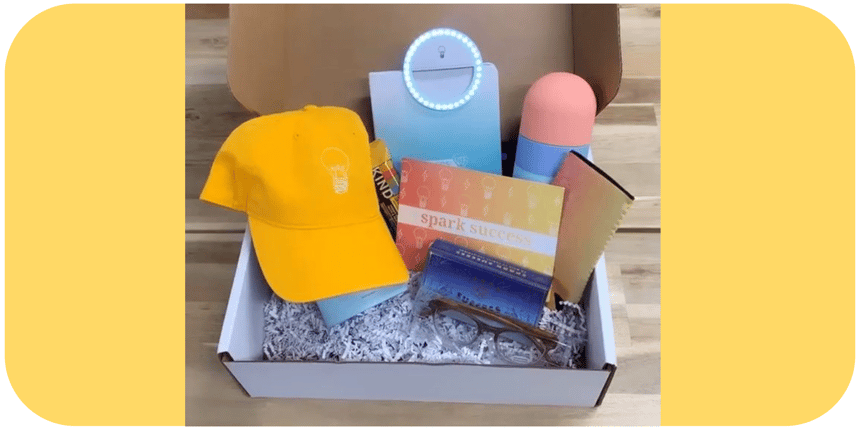 Recognition, Coffee Chats, & Select-A-Sessions
We kicked off Founders' Lite with a virtual awards show, where we recognized our incredible sales team and passed out awards to those who demonstrated incredible sales, work ethic, and our Boundless Core Values in 2020.
To keep with the traditional morning coffee talk we normally enjoy at in-person Founders' Circles, we utilized Zoom Breakout Rooms to create a casual, randomized virtual environment for our employees and salesfolk to chat over coffee for thirty minutes every morning. After coffee, we engaged in peer-to-peer education sessions focused on how best to continue selling in 2021 and beyond, with information on how to translate popular trends into products, Boundless technology demonstrations, bright boxes and creative kitting, gifting incentives, print school, and so much more.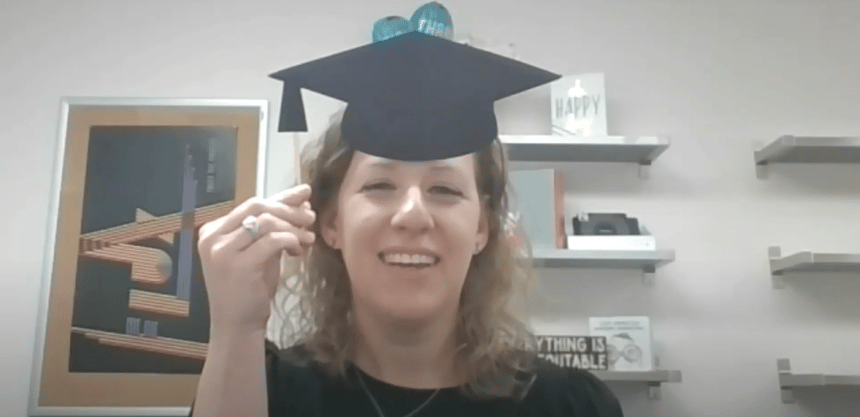 Congrats again to all of our award winners, and thanks so much to everyone who participated at Founders' Lite 2021. Stay bright, y'all!
---
FOUNDERS' LITE AWARD WINNERS
SALES PERSONA AWARD WINNERS
The Techie: NEAL SKURO
The Mentor: THERESA ROBERTS
The Shooting Star: KATHY CHAPSKI
The Show Up: SEAN McCOLL
The Brave: BONNIE SHACKLEFORD
The Trailblazers: AMBER GEORGE, RIXIE McKOOL, MELISSA ELMORE, ISSY DRINKALL, BETH PENNING, NIKKI KAY
CORPORATE PERSONA AWARDS
The Techie: VARUN CHODAVARAPU
The Creative: KRISTIN WILLIAMS
The Socialite: JONATHAN BRADFORD
The Helping Hand: JEFFREY MICHAEL
The Shooting Star: RIVER GARZA
The Brave: KENNY WOTTRICH
SALES AWARD WINNERS
Highest Sales: THERESA ROBERTS
Highest Sales Month: THERESA ROBERTS
Highest Gross Profit: LINDA ETHRIDGE
Highest Team Account Sales: AHA YOUTH TEAM (RITA HAZEN, AMBER MEIER, CARRIE NOLEN, MEGGAN WALKER)
CORE VALUE AWARD WINNERS
"Go Above and Beyond": KEVIN QUINN (Sales) and SYDNEY ARSENAULT (Corporate)
"Do the Right Thing": ANREA PERREIRA (Sales) and TJ HIPSHER (Corporate)
"Contribucate": D'SHENE COTTON (Sales) and CRISSY MANWARING (Corporate)
"Find a Better Way": MICHELE NESTER (Sales) and RACHAEL WAHLGREEN (Corporate)
"Embrace the Fun": MURRAY NAGEL (Sales) and GRETA BURDSAL (Corporate)