8 Corporate Gift Ideas That Will Blow Your Guests Away
Is your brand ready for the hectic holiday season with a corporate gift strategy? While your team is busy prepping for the end of the year, don't overlook one of the juiciest marketing opportunities of Q4: end-of-year gifting.
When you give a tangible gift to employees, clients, or potential customers, you're creating an immediate sense of connection and positivity. That translates into stronger relationships that lead to improved retention and sales. According to PPAI, a leading industry organization, many businesses are viewing gifting as a vital yearly expense, even in the leaner years, because of the importance it places on employees and customers.
Don't skimp on corporate gifts this holiday season! The perfect present has so many benefits for your brand, including:
Better customer relationships

: Corporate gifts give you yet another opportunity to make your brand stand out.

Humanized branding

: Share a little piece of your company culture with future clients. For example, if environmental justice is vital to your mission, give corporate gifts made from sustainable materials. These touches provide customers a tangible, real example of your values in action.

Loyalty

: Clients and employees are more likely to stick with you if you show a little appreciation. Corporate gifts say, "I value you," to the people who make your success possible.
Whether you want to strengthen your team culture or you want a positive touchpoint with a prospective client, corporate gifts are your way in.
The 8 most effective corporate gifts
Gifting is very much in line with the spirit of the season. The ultimate goal of a corporate gift is to create positive emotions around your brand that foster unity and show you care.
The thing is, some corporate gift ideas are more effective than others. If you really want to blow your guests away, make sure these eight gifts are wrapped up this year.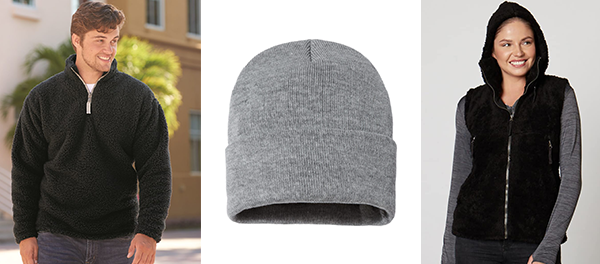 1. Warm outerwear
Brrr! The weather is turning chilly, so why not keep your prospective clients protected from the cold? Cozy outerwear can provide a warm, high-quality option for corporate gifts.
You can stick with winter beanies if you don't want to worry about sizing. But if you really want to make a statement, gift your recipients a sherpa vest or jacket: it's warm, versatile, and not as bulky as a huge winter coat. Since outerwear can be an investment, we guarantee your guests will be blown away by the quality of this gift.
2. Cozy home decor
Home decor gifts are a great way to connect with recipients where they're most comfortable and where you'll reach them on a daily basis.
You don't need to gift your clients a snowman figurine to ring in a bit of holiday cheer, either. Neutral, universally useful decor is the best option here. Go for cozy fleece blankets, coaster sets, or desk lamps.
3. Laptop bags or backpacks
If your clients are always on the go, laptop in hand, give them a leg up with a new work bag. And we aren't talking about flimsy laptop bags here: these corporate gifts are high-quality and wow-worthy. Send padded laptop sleeves or nice backpacks with plenty of pockets for storage.
4. Books and journals
What's cozier than curling up with a good book? You can easily tailor a journal to your recipients with unique paper style, cover material, size, and more. Journals and books make for great corporate gifts because you don't have to worry about sizing, either.
If you want to give away books, we recommend sticking with something related to your industry or job. Unless a specific fictional character has a direct relationship to your work, stick with books about your industry, entrepreneurship, leadership, business, etc.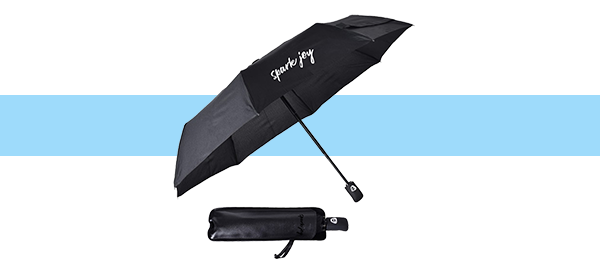 5. Umbrellas
How many times have you wished you had a spare umbrella in your car or bag? Everybody needs an umbrella, and that's why high-quality umbrellas make such good corporate gifts.
Make sure you order umbrellas that are durable enough, so they don't turn inside out during a storm, though. You definitely don't want to leave your gift recipients out in the cold, so go with high-quality umbrellas. Auto-open or inverted open are also nice features that your giftees will appreciate.
6. Gift baskets
What's more traditional than a corporate gift basket? Most gift baskets contain goodies that the entire office can enjoy, but they can also include coffee tumblers, clothes, bath bombs, and any other nice-to-have support that your clients would enjoy.
A gift basket shows clients that you really went the extra mile. We recommend sticking with functional, practical gift baskets paired with gourmet food, like:
A cheese board with crackers and jam.

A travel backpack filled with jerky and trail mix.

A coffee tumbler and premium coffee beans.
7. Wireless earbuds
Earbuds are a necessity in a noisy office and for traveling, entertainment, and even sleeping. If you want to keep your brand top of mind this holiday season, gift your clients a set of wireless earbuds.
Go for earbuds with long-range Bluetooth so your clients can go from room to room without any audio interruptions. A charging case is another plus that clients love; you can even add your logo, which gives you yet another opportunity to promote your brand.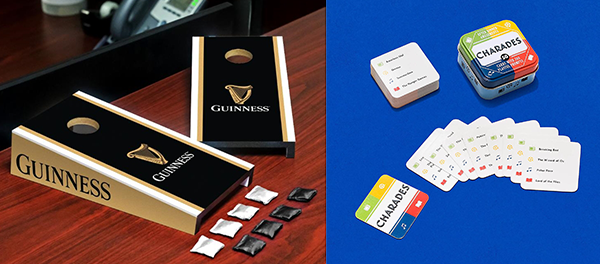 8. Fun games!
Who says business has to be serious? Sometimes you can create the best Brand Love moments with a dash of fun. Games are a great way to show your brand's fun side. If you're trying to deepen relationships with existing clients, puzzles, a desktop cornhole game, and dominoes are a great way to do it.
You'll need to read the room here, of course. If you're in a serious industry like banking, the high-powered CEOs might not appreciate a game of cornhole (or would they?). Always consider your audience before you give someone a more lighthearted gift.
Promote your biz with corporate gifts
Holiday cards are festive, but if you really want your great customers, employees, and potential clients to remember your brand fondly, it's time to bring out the big ideas. Think bigger than gift cards this year: try these eight corporate gifts to give your guests something to talk about. Choose meaningful gifts that your recipients will not only enjoy receiving but that they'll use for years to come — after all, the more they see your name, the more likely they are to interact with your business.
The end of the year is around the corner: plan your corporate gifts now to master your holiday promotions well before the Q4 rush. See how Boundless can help your biz create more connections with corporate gifts that wow.