4 Turnkey Kit Ideas To Welcome New Clients And Employees
They say you never get a second chance to make a first impression, and although the phrase is perhaps a bit cliché, there is definitely some truth to it. As a company, you allocate considerable resources attracting new customers and employees. Ensuring that they have a positive onboarding experience is a key element in retaining them.
Did you know that by 2020 customer experience will overtake product and price as the most important factor in differentiating your brand? (GleanTap) This means that gestures like sending a thoughtful welcome kit to a new client can have an enormous impact in solidifying loyalty towards your brand. As for employee retention, the same principal rings true with 69% reporting that they are more likely to stay with a company for 3+ years if they felt welcome during their onboarding experience. (Bamboo HR)
Welcome kits are an affordable and proven way to build goodwill and warm fuzzy feelings around your brand!
So now that you know why welcome kits are so impactful, let's talk about next steps! Creating a buzzworthy and cohesive branded kit can be a daunting task with a lot of moving parts. There is theme, design, fees, and fulfillment logistics to name a few factors. But don't worry—we've got you covered!
First, you want to make sure you are centering your kit around a message or theme to make the giveaway more impactful. For our turnkey kit collection, we focused on "Welcome Aboard!" messaging and picked a nautical theme and colors to anchor everything together. You can order the kits below as is, or use as a jumping off point and work with your Brand Consultant for your own themed idea.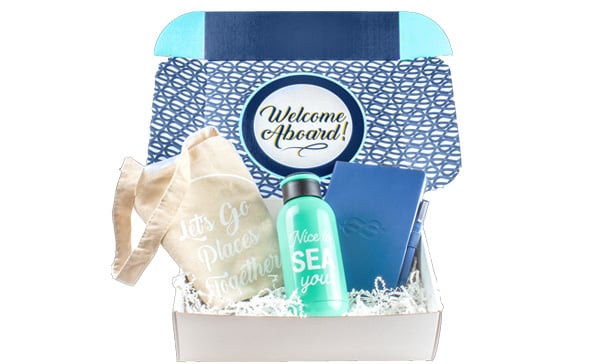 What better way to say "Welcome Aboard" than with this nautical themed kit? It includes essentials like a cotton tote, insulated water bottle, and a journal/pen bundle — all delivered in a beautiful custom box accompanied by a printed welcome message. The pricing below even includes baseline fulfillment charges, making ordering a cinch!
Price: starting at $35.65 (no setup charge!)
Minimum qty: 72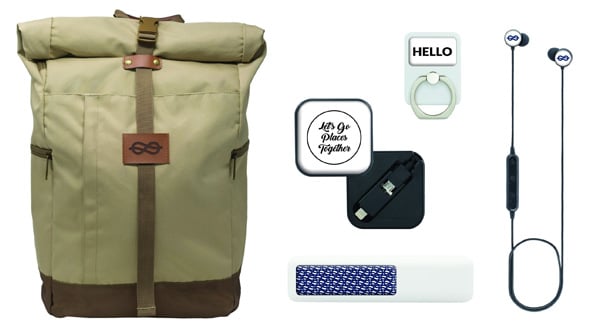 This retail-inspired kit will deliver that "Wow!" moment with your new clients and employees. And best of all, the minimum is only 1 with no setup charge! You'll find wireless earbuds, a 2200mAh power bank, a USB connector, and a Ringr smartphone multi-tool all kitted together in a roll top backpack! This kit is a perfect choice for when you just need a one-off client or employee gift.
Price: starting at $75 (no setup charge!)
Minimum qty: 1
This kit is a great giveaway to kick off your new partnership and is perfect for the outdoorsy client or employee! The water-resistant duffel and the vacuum insulated tumbler are both incredibly popular, so when paired together they make for an impactful gift. Since these products have staying power (and this kit has a 50 qty minimum), the "New Adventure Kit" is perfect for bulk ordering and leveraging for a release program as you take on new employees and clients.
Price: starting at $15.10 (+$50 setup charge)
Minimum qty: 50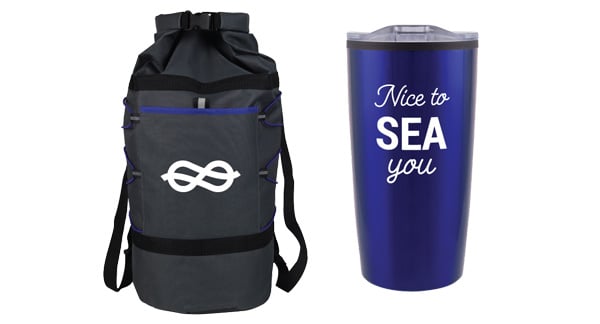 Smartphone accessories are both wildly popular and extremely useful. After all, who doesn't own a smartphone these days? This gift set includes all of the essentials including: a magnetic micro USB cable for charging, a desk cable organizer, a phone stand keychain, a magnetic cable mount to stay organized, and a MFI certified Apple Lightning tip. This kit is the perfect way to further your brand and keep your employees and clients connected on the go. Pricing includes custom packaging and best of all the minimum quantity you need to order is only one!
Price: starting at $31.17 (+ one time $187.50 setup charge)
Minimum qty: 1
---
Welcome kits are an affordable and creative way to extend a warm welcome and solidify brand loyalty. Hopefully these kits have inspired you to start brainstorming! Whether you would like to purchase these kits as is, or if you want to make your own, contact your Brand Consultant to get a detailed quote for your campaign.
SEE MORE KIT IDEAS HERE!