We sat down with Neal Skuro, a Boundless sales affiliate from Offbeat Productions, to learn more about his transition from a buyer of promotional products at Sony to a seller at Offbeat, and how seeing both sides of the business has helped him grow.
Tell me a little bit about yourself?
I was born and raised in Southern California. Growing up, my family has always been very important to me and is integral to who I am today. I have both an older and a younger brother and my parents spent a lot of time focusing on supporting us growing up, mainly in sports. Sports have always driven me in my life – I played competitive club soccer growing up then transitioned into roller and ice hockey later on. I still play ice hockey once a week and I also play USTA tennis several times a week. As a matter of fact, our doubles team just won the Southern California sectionals.

I am married to my wife of 17 years, Season, and we have two children – Sofia, 11 and Carson, 6. I love to coach my kid's sports teams and we spend a lot of time together as a family playing tennis, golf, skiing, ice hockey, hiking, biking and traveling. Did I mention I love sports?
How did you get into the promotional products business? What do you like about it?
Just prior to entering the Promotional Product Industry, I ran the retail marketing department at Sony Pictures Home Entertainment for 6 years. It was part of my department's responsibility to procure branded merchandise so that experience working on the other side of the promotional business provides me a unique perspective today. One of the things I enjoy most is the ability to work across different industries such as automotive, healthcare, entertainment and technology, as it keeps things fun and exciting. I also enjoy cultivating great relationships with my clients.
What professional goals do you set for yourself and how do you achieve them?
My goals are generally two-fold. I set sales based goals for myself, as well as new client growth goals. In December of each year I like to sit down and make both professional and personal goals and resolutions for myself. This is also something we do as a family and I think it's important to set goals to always keep driving yourself ahead in a forward trajectory.
What is your secret to building relationships with your clients?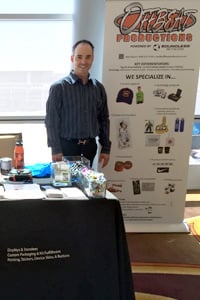 I take the time to listen to my clients, to understand what they want and need. Often times I ask my clients many questions before engaging in a project so that I can get the full picture of what their needs are and give the best recommendations possible. This is where I draw from my experience at Sony Pictures Home Entertainment on the buying side because I'm able to understand the intricacies of a corporation such as approvals, multiple departments involvement, operations, legal, etc. I truly want my clients to be successful and take pride in working on their projects as I feel I'm an extension of their company.
If you could change one thing about the industry what would it be?
There are many products out there that look the same but the quality is vastly different across multiple manufacturers. I work to educate my clients and guide them to choosing the right high quality product that they expect from me. In an ideal world, I wish there was more 'quality consistency' across the industry. A great example is power banks – some battery's capacity diminishes more quickly over time and has a slower charging time; however, others work more consistently for years. Pens are another basic example – they all look alike on the outside, but some write smooth while others skip and don't have proper ink flow.
What has been the biggest game changer in the promotional products industry in your time as a sales partner?
There are two big advancements that I've seen in the industry over the past couple years. First, on the backend, the development and advancements of technology across the board from pre-sales to order management has been remarkable in helping us to run our business. It's following the Amazon path.
Second, the advancement of full color decorations has come a long way. A few years ago, manufacturers didn't have the ability to do full color or it was on limited products. Today, the quality is much better, the pricing is lower and the breadth options are increasing.
Why do you choose to partner with Boundless?
Offbeat Productions/Boundless is very forward thinking with their technology which allows our clients to have a great experience with every project such as building online projects, customer portals, automatic order communications and reporting infrastructure. Management provides great support, both sales and operations, which allows me to grow my business and focus on developing strong relationships with my client partners.